John F. Kennedy Space Center
By Aviation: From Sand Dunes to Sonic Booms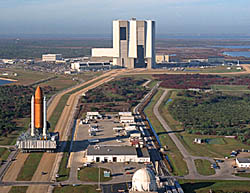 John F. Kennedy Space Center in eastern Florida has historically functioned as the major National Aeronautics and Space Administration (NASA) launch facility for manned and unmanned space missions. Prior to the development of the John F. Kennedy Space Center, space missions originated from Cape Canaveral Air Force Station. However, when President Kennedy initiated the Man-to-the-Moon project, Cape Canaveral Air Force Station was deemed insufficient to house further facilities. In 1961 NASA requested from Congress authority to purchase 125 square miles of property that became John F. Kennedy Space Center. The space program proceeded rapidly, progressing through four major phases: Mercury, Gemini, Apollo and the Space Shuttle. Project Mercury, executed in less than five years, put a manned spacecraft in orbital flight around the earth. Project Gemini was dedicated to long-duration missions. The goal of the Apollo program, the largest and most ambitious of the manned space programs, was landing astronauts on the moon and their safe return to earth. After the first few Apollo missions, all originating at the John F. Kennedy Space Center, Apollo 11 culminated when astronauts Neil A. Armstrong and Col. Edwin E. Aldrin, Jr. touched down on the moon in their lunar module on July 21, 1969 while Lt. Col. Michael Collins, navigator of the Apollo craft, remained in orbit.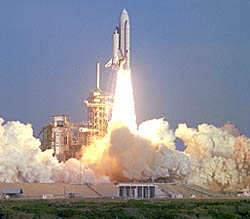 The Space Shuttle program was dedicated to creating a reusable shuttle. The first reusable space shuttle lifted off from John F. Kennedy Space Center on April 12, 1981, carrying John Young and Robert Crippen. By 1986, NASA was approaching a goal of 12 to 13 shuttle launches each year. Following the loss of the Challenger and its crew on January 28, 1986, the program experienced a 32-month hiatus. Today as the leading space center, John F. Kennedy Space Center launches manned space vehicles, unmanned planetary spacecraft, scientific, meteorological and communications satellites and serves as a launch site for the reusable Space Shuttle. The planning and directing of space vehicle assembly, preflight preparation, spacecraft tests, countdown and launch operations and landing operations are among a few of the responsibilities of John F. Kennedy Space Center. The National Register listings at the John F. Kennedy Space Center include the Operations and Checkout Building, the Missile Crawler Transporter Facilities, the Crawlerway, the Headquarters Building, the Press Site, Clock and Flag Pole, the Vehicle Assembly Building, the Central Instrumentation Facility, the Launch Control Center and Launch Complex 39.

Visit the National Park Service Travel American Aviation to learn more about Aviation related Historic Sites.
Last updated: August 28, 2017