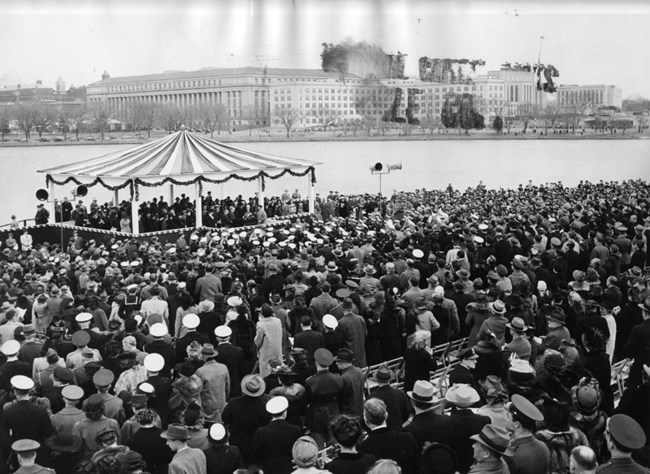 From the laying of the cornerstone of the U.S. Capitol by George Washington in 1793 to the dedication of the Martin Luther King, Jr. Memorial by Barack Obama in 2011, presidential participation in ceremonies at the monuments and memorials of the Nation's Capital is a time-honored tradition in Washington. And the dedication of the Thomas Jefferson Memorial on April 13, 1943 was no different.
Scheduled on the 200th anniversary of Jefferson's birth, the dedication of his memorial was the culmination of nearly a decade of planning and construction. The memorial was championed to the Commission of Fine Arts by Franklin Delano Roosevelt in the second year of his presidency, and by 1935 Congress had appropriated $3 million for its construction. The groundbreaking was held three years later, and construction was substantially completed by the spring of 1943. Only the bronze statue of Jefferson had not been completed, owing to wartime metal shortages (a painted plaster version was in place for the dedication and would remain until the restrictions on metal use were lifted in 1947).
Though Roosevelt was widely expected to attend the dedication (he had spoken at both the groundbreaking in 1938 and the laying of the cornerstone the following year), his participation wasn't announced until the morning of the ceremony.
Traveling from the White House with First Lady Eleanor Roosevelt, former First Lady Lou Hoover and Crown Princess Martha of Norway, the president and his party arrived at the memorial just prior to the start of the noon ceremony. Some 5,000 spectators (including Wendell Willkie, FDR's Republican opponent in the 1940 presidential election and a who's who of the international diplomatic corps) were assembled on the plaza in front of the memorial, facing the dais, set up on the edge of the Tidal Basin and covered in red, white and blue streamers.
Under overcast and windy skies with a backdrop of the fading cherry trees (peak bloom had been reached on April 4 that year) the ceremony began with remarks by Stuart Gibboney, chairman of the Jefferson Memorial Commission, followed by the invocation from the Right. Rev. Henry St. George Tucker, presiding bishop of the Episcopal Church in America.