Jason Longshore - Contracting Officer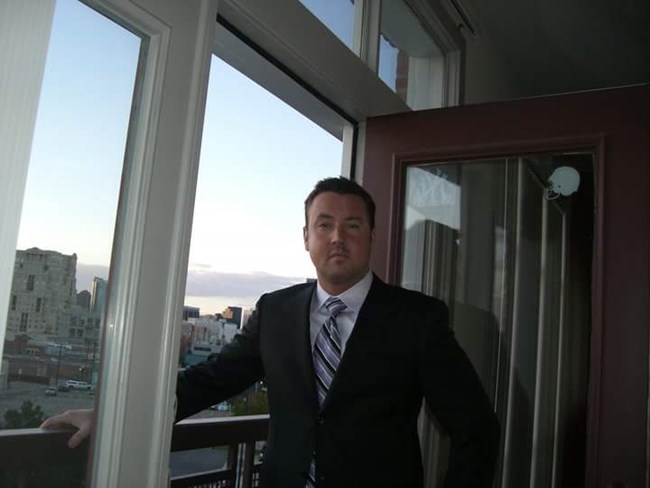 What is your name and job title? Jason Longshore, Contracting Officer with the Denver Service Center Contracting Service Division.
What experience and education do you have? In 2003, I joined the United States Air Force and began working as a contract specialist while stationed in Anchorage, Alaska, Elmendorf Air Force Base for four years. I rotated within the Contracting Division learning service, commodity and construction contracting. Additionally, I deployed as a contingency contracting officer to Doha, Qatar for four months supporting Operation Enduring Freedom. After the Air Force, I accepted a contract administration position with a private firm and worked in Afghanistan for three years where I was promoted to the regional contracts manager managing more than $1 billion in task orders per year. After Afghanistan I moved to Denver, Colo., and initially worked as a contract specialist supporting US Department of Agriculture, Job Corps, followed by the same position but with the Federal Highway Administration. I spent five years working on various projects that included supporting the National Park Service. As luck would have it, I accepted a job as a contracting officer with the National Park Service in the fall of 2014.
I have several degrees including a master in Acquisition Management from the American Graduate University, a master of arts in management from Wayland Baptist University. I also hold an associate's degree in contracts management from the Community College of the Air Force, and lastly a bachelor of arts in economics from the State University of Potsdam.
What is a typical day like? A typical day consists of various meetings that include negotiations, construction progress meetings and coordinating with the technical team on a variety of issues. If I am not in meetings, I am responding to some of the 200 emails I typically received each day. Sometimes I am lucky to be able to travel to various parks for pre-bid tours, site visits, and pre-construction conferences.
What career advice would you give to someone who wants to follow a similar path? The Federal Acquisition Regulations (FAR) are the rules and regulations that (federal job series 1102) contract professionals follow in order to assure that taxpayer funds are used appropriately. I would suggest that someone starting a contracting career is familiar with the FAR and understands each part of the FAR. Contracting professionals should also have a broad range of training to include engineering, scheduling, and cost accounting.
What is one of the bigger projects you are working on and what about that project might surprise people? Currently we are closing in the on completion of the renovation and expansion of the Jefferson National Expansion Memorial Museum. The Jefferson National Expansion Memorial program is a cumulative partnership effort between the National Park Service, CityArchRiver 2015 Foundation, and Great Rivers Greenway District, one of the first of its kind for the National Park Service. The public-private partnership includes CityArchRiver 2015 Foundation which was formed to fund and coordinate the design and development of the project. The project was awarded in March 2015 and will be finished in spring 2018.
Last updated: January 24, 2018