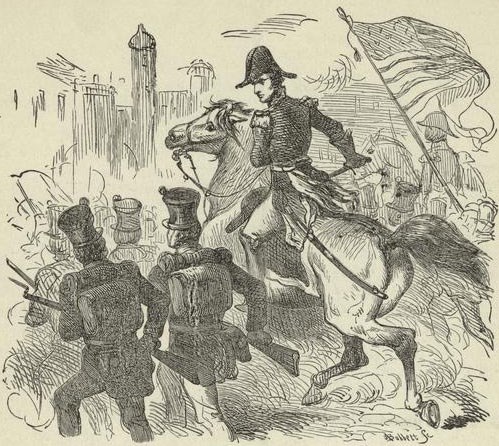 Andrew Jackson may not have been present in Pensacola often, but his presence is an important part of this city's legacy. Jackson was assigned to Pensacola three times, once in 1812, then in 1818, and lastly in 1821 and each time his actions were in favor of American freedoms, authority, and sovereignty. Though not every decision Jackson made while in Pensacola was well received, each experience impacted his future and the future of this country.


Andrew Jackson's first arrival in Pensacola was during the War of 1812, also known as the Second War of American Independence. During this war, Great Britain was looking to take back the colonies and was using their powerful navy to advance this mission. One tactic the British Royal Navy used was to attack valuable infrastructure and seaports built along the coasts of the United States. The British were successful as they moved down the east coast and by 1814, they were moving towards the Gulf coast and planning an attack on New Orleans. Secretary of War, James Monroe, assigned Andrew Jackson to protect and defend New Orleans. As Jackson started moving his troops towards New Orleans, he learned that the British were occupying Pensacola which belonged to Spain, a country neutral to the United States during this war. Jackson initially asked Spain to surrender the area allowing the United States to move in and push out the British, but Spain refused. Jackson ignored this refusal and on November 7, 1814, he moved in with troops and attacked the Spanish built Fort Barrancas causing the British troops to retreat. As they retreated, the British blew up the Spanish forts rendering them useless. With the British gone from Pensacola and the infrastructure ruined, Jackson continued along with his troops towards New Orleans. Jackson was victorious during the Battle in New Orleans which ensued, and ultimately ended British threat to in the United States.
During 1818, Florida was still a Spanish territory and the United States was looking to protect people who lived alongside the borders of Spanish West Florida and the United States. President Monroe, ordered Jackson to this area to defend the US borders. But instead of defending the United States, Jackson invaded Spanish West Florida and occupied Pensacola with his troops for fourteen days starting May 24, 1818. While he forced out any threat, he illegally occupied a territory belonging to a neutral country. This unlawful action could have led to war with Spain and the United States government debated whether they should end Jackson's military career. Ultimately, they did not discharge him, because in that following year, Spain and the United States signed a treaty that transferred West Florida to the United States without penalizing Jackson or the United States government for his illicit actions. The Adams-Onis Treaty of 1821, went into effect, officially transferring Florida, including Pensacola from Spain to the United States.
By 1821, Jackson was asked by President Monroe to go back to Pensacola and act as governor. On July 17, 1821, Jackson was present as the Spanish flag was lowered and the American flag was raised. By November of 1821, Jackson decided to leave to go back to his home in Tennessee, but not without first making a name for himself politically as governor of Florida.
While Jackson did not spend much time in Pensacola, his course of action through the area influenced his and Pensacola's future, as well as the country as a whole. Should he not been victorious during the Battle of New Orleans, which concluded British threat to the United States, had he not pushed out the British in Pensacola first? Could Florida have remained in Spanish hands for longer had he not illegally occupied it showing Spain's lack of defense in the area? Would he have made a name for himself as a politician had the opportunity not become available in Florida? Jackson impacted the future of Pensacola and Florida and represents a story American freedom, power, and sovereignty.