Bandelier National Monument and Beyond: International Collaborations in Fire Ecology
'Mantén Viva la Llama' - 'Keep the Flame Alive!'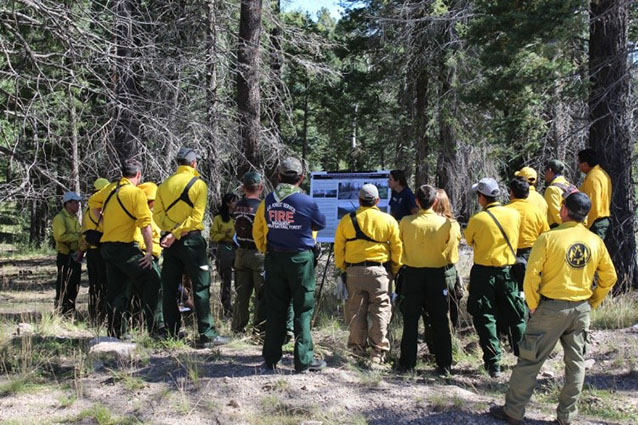 'Mantén Viva la Llama' - 'Keep the Flame Alive!' was the theme of this year's Spanish Language Training Exchange (TREX), held September 15th to October 4th, 2015 in the Jemez Mountains of New Mexico. Twenty TREX participants traveled from Spain, Guatemala, Argentina, Honduras, Costa Rica, and Mexico to share experiences, learn about prescribed fire, fire management, fire ecology, and restoration practices in forests and grasslands.
On September 18th, 2015, TREX participants met with the Bandelier Fire Ecology Crew to discuss the ecological effects of fire, learn about vegetation and fuel monitoring plots, and identify trees and plants that have adapted with fire. Working in small groups with language translators, the Fire Ecology Crew taught participants how to collect surface fuel data. The data is used to inform fire and resource managers of the amount of flammable material in an area, to prioritize areas for treatment, and to determine if treatment objectives are being met. While visiting a repeat photography site in a high severity burn area in Bandelier, the Fire Ecology Crew and TREX participants discussed the causes of the fire and vegetation recovery.
International Collaborations in Fire Ecology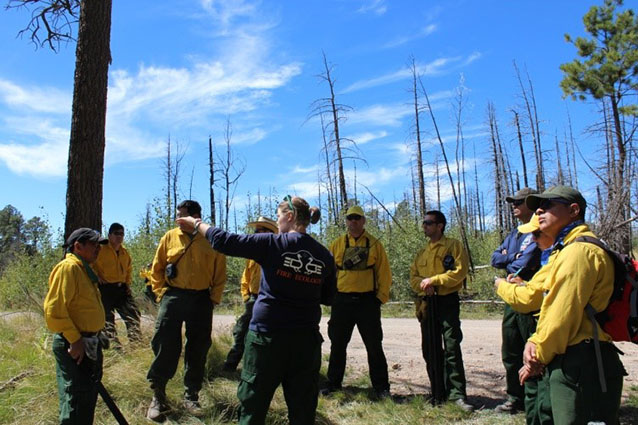 Throughout the day, the Fire Ecology Crew learned from TREX participants about the vegetation and wildfire conditions in other countries, and TREX participants discussed how they could integrate some of the information they learned from the Bandelier Fire Ecology Crew into the Fire Management Programs in their home countries.
Contact: Laura Trader, Ecologist
Email: e-mail us
Phone: (505) 690-9436
Last updated: March 14, 2016