Intern Addresses Fire Protection and Life Safety Issues at Cape Hatteras National Seashore
"I've learned a lot about practical fire protection and been able to educate staff on how to improve the protection of visitors and resources." Dan Mizrach, NPS structural fire protection intern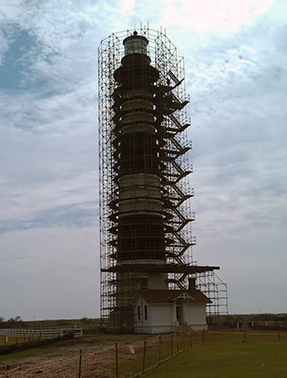 When University of Maryland student Dan Mizrach first applied for a structural fire internship with the National Park Service, he imagined that if offered a position, it would be in some remote northwestern park. "My uninformed expectation of NPS structural fire protection was essentially making sure that some lodge in Yellowstone or Glacier National Park was safe from wildfires."
Upon being offered a summer position at Cape Hatteras National Seashore, Dan thought that it sounded interesting, but wondered what could burn on a beach--lifeguard stands? "Man, was I wrong. There are dozens of buildings here scattered around various islands, each housing important people, exhibits, and machinery. The people work hard every day to give tourists an informative, safe, and fun experience that they will enjoy." From Ocracoke to Wright Brothers National Memorial, park buildings are mixed in with the seashore, wildlife preserves, and typical beach scenery. Dan found that "while the current fire protection is sometimes not up to par, I quickly came to realize that I will have a busy and interesting summer making sure that I assist however I can in noting and improving these buildings' life and property safety."
During his first weeks as an intern at the park, Dan was able to get out to see a little more of the seashore, with a trip down to the Bodie Island Lighthouse, where a new deluge sprinkler system was being installed in a small building at the base of the lighthouse called the "Oil House." At the time of Dan's visit, the design phase of the new sprinkler system had already been completed. The current stage addressed the installation of the riser and underground feed. Jim King, the Southeast Regional structural fire coordinator, came up from Atlanta to give his required input to the project. Unfortunately, some 230 feet of underground piping had already been buried with its code compliance still up in the air. Fortunately, after some code research and communication, it was determined that the pipe was able to be used in the current system.
At the beginning of Dan's internship, he also worked on putting together an inventory of the current fire protection systems in place around Cape Hatteras National Seashore. In his research he found some areas that needed to be addressed during the rest of the time he spent at the park. Additional tasks he pursued were continuing with the inventory/assessment on Bodie Island and at Wright Brothers National Memorial, as well as working on emergency evacuation plans for park buildings and putting together a flow testing program for the hydrants around the park.
As he finished the last of his summer 2012 internship in the Outer Banks, Dan uploaded all the fire protection systems information from the inventory into a spreadsheet for upload into FMSS (Facility Management Software System). The most significant trend he noticed through all of the inventorying was the overly complicated sprinkler systems protecting park buildings. "Both the Outer Banks Group Headquarters and the Fort Raleigh Visitor Center have pre-action sprinkler systems installed. Neither has any exposure to the elements and both are fully heated. As a result, the visitor center had been having some issues with the alarm system falsely activating and the sprinkler system charging." This was an item he was unable to address during his time at the park.
Dan enjoyed his time at Cape Hatteras and was "proud to have helped jump start what will hopefully be a nationwide increase in Park Service fire protection professionals. I've both learned a lot about practical fire protection and been able to educate staff on how to improve the protection of visitors and resources."
Last updated: December 8, 2017