Interdisciplinary Personnel Provide Value Support for Wildland Fire Efforts Nationwide
Many of our interdisciplinary agency personnel Servicewide play a key role in supplementing agency fire staff and providing key skill sets for interagency wildland fire efforts nationwide.  Personnel from all disciplines – fire management, resource management, visitor and resource protection, administration, facility management, even Superintendents – help support wildland fire activities throughout the year.
"Teamwork, partnerships and cooperation are essential in managing fire. We appreciate the contributions of all of our interdisciplinary staff from parks across Southeast Arizona, Their skillsets are valuable to interagency wildland fire operations." John Thornburg, Interagency Fire Management Officer for Southern Arizona National Parks & the Coronado National Forest, Santa Catalina Ranger District
Nationwide Incident Response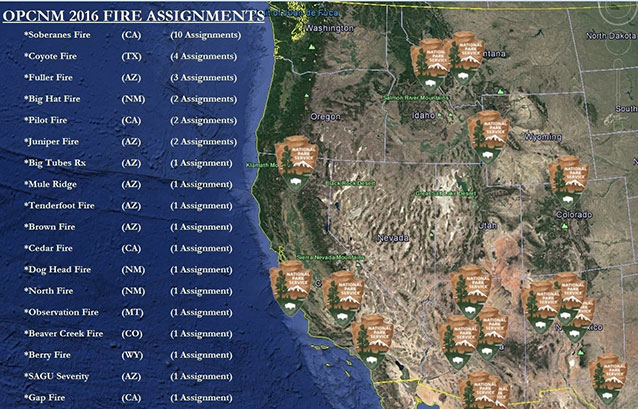 For example, in 2016, visitor and resource protection and interpretation rangers from Organ Pipe Cactus National Monument had 35 individual assignments on 18 incidents across six states. 
Support for Diverse Functions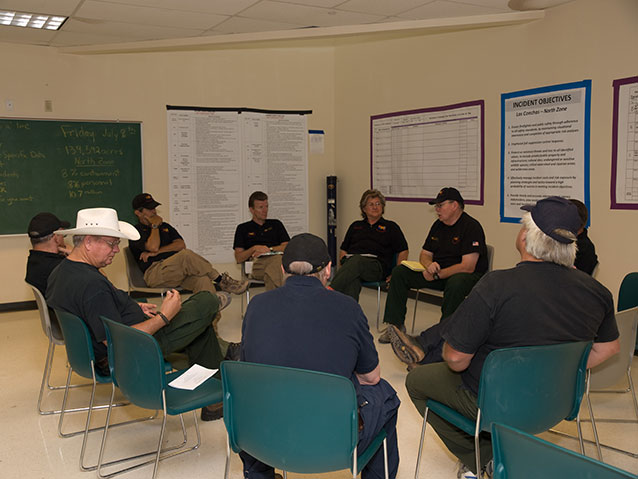 Other staff from area parks including Saguaro National Park, Coronado National Memorial and Tumacácori National Historical Park also help support wildfire operations in a variety of capacities, including as firefighters, resource advisors and in a variety of positions on local and regional incident management teams including Incident Commander, Planning Section Chief, Finance Section Chief, Public Information Officer, and Division Supervisor. 
Detail Opportunities with the Saguaro Wildland Fire Module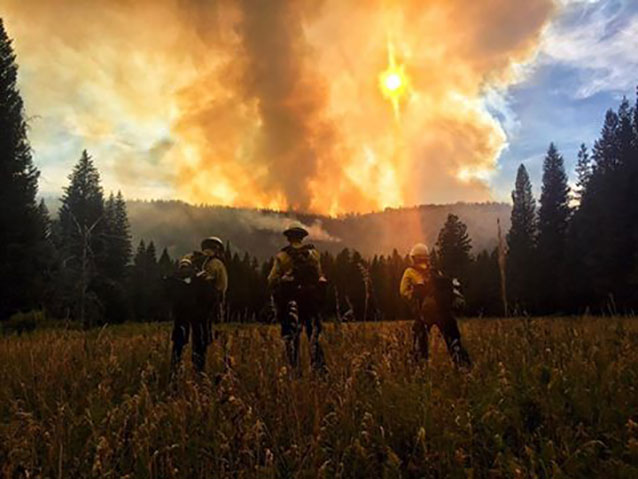 The Saguaro Wildland Fire Module also often hosts detail opportunities.  Bringing in outside resources helps boost the module's capabilities, while providing detailers training assignments and/or a chance to gain experience in the field.  The module's assignments often take them around the country.  In 2016, their assignments included the Big Tubes prescribed burn at El Malpais National Monument (New Mexico), the Coyote Fire at Guadalupe Mountains National Park (Texas), the Brown and Racetrack Fires on the Coronado National Forest (Arizona), the Big Hat Fire at Valles Caldera National Preserve (New Mexico), the Fuller Fire at Grand Canyon National Park (Arizona), and the Berry Fire at Grand Teton National Park (Wyoming).
Support from Interdisciplinary Staff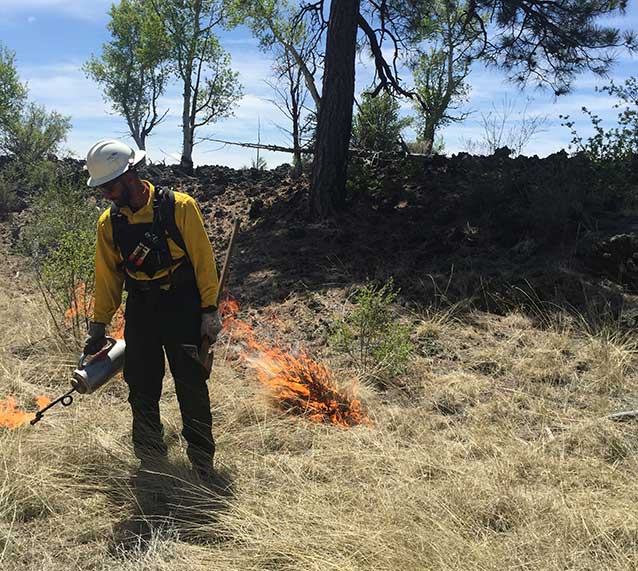 Staff from Saguaro National Park's resource management and visitor and resource protection divisions detailed with the module during the summer of 2016 as Type 2 firefighters.  Visitor and resource protection rangers from Organ Pipe Cactus National Monument have also provided important medical support as Emergency Medical Technicians (EMTs) during backcountry assignments.  In some cases they have also gained experience as Type 2 firefighters and had training opportunities to build their skills with a chainsaw. 
Professional Skillsets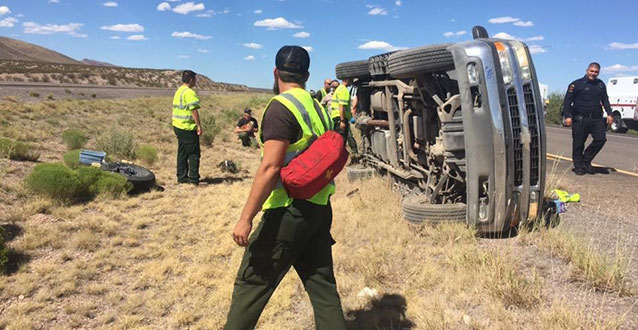 These interdisciplinary staff always bring a positive attitude and professionalism to everything they do.  This even extends beyond the fireline.  For example, while the Saguaro Wildland Fire Module was traveling to an assignment, they were first on scene to a vehicle rollover accident on a major interstate.  An EMT detailer from Organ Pipe Cactus National Monument supplemented the module's skills as first responders, and they were able to provide care for the patient and their dog until local resources arrived.
Interagency Support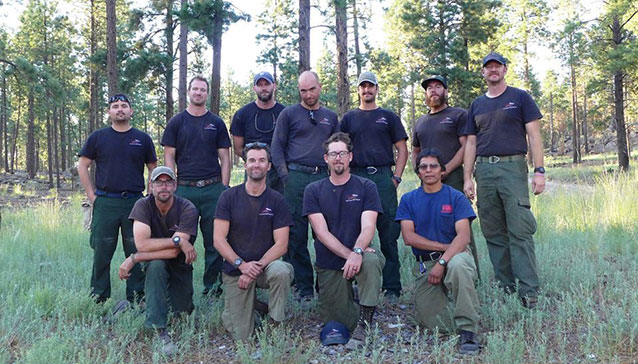 Interagency fire personnel from El Malpais National Monument (New Mexico), Zion National Park (Utah), the Natchez Trace Parkway (Misssissippi), and the Bureau of Indian Affair's Warm Springs Agency (Oregon) have also detailed with the module this year.  They bring a range of skills as firefighters, fallers (firefighters that use chainsaws to cut down trees), and fire effects monitors. Several had opportunities to work on faller and fire effects monitor taskbooks during their assignments as well.
Training Opportunities

Training is an essential part of preparing staff for field assignments and building their skills.  Saguaro National Park fire staff helped coordinate a Southeast Arizona Zone wildfire academy in 2016. The training was held in Tucson at Golder Ranch Fire District's training center.  It was widely attended by interagency participants from federal, state, and local wildland fire agencies in the area. Overall, 13 courses were offered, with 226 students in attendance. Of those, five classes were instructed by three members of Saguaro National Park's fire management staff.  Seventeen seats in seven different classes were filled with interdisciplinary National Park Service red carded wildland fire personnel from a variety of functions. Based on the success of the program, it will be offered again in the spring of 2017.
The Value of Working Together
"Teamwork, partnerships and cooperation are essential in managing fire," said John Thornburg, Interagency Fire Management Officer for Saguaro and Southern Arizona National Parks and the Coronado National Forest, Santa Catalina Ranger District.  "We appreciate the contributions of all of our interdisciplinary staff from parks across Southeast Arizona, Their skillsets are valuable to interagency wildland fire operations," he said. He also explained, "Working together also keeps our responsiveness up and costs down."
Last updated: November 10, 2016