Bandelier National Monument and Beyond: Inspiring Future Fire Ecologists in Los Alamos County
Bandelier National Monument's Ponderosa Campground, an area that has been impacted by several major wildfires, was a fitting location to meet and learn about Fire Ecology. On June 14th, 2016, Bandelier's Fire Ecology Crew members met with twenty-three elementary-aged youth from Los Alamos, Bernalillo, and Rio Arriba counties who were attending the Pajarito Environmental Education Center's (PEEC) Summer Camp.
"To be able to show the campers how we, an all female crew, are both scientists and wildland firefighters was really neat. I hope we were inspiring."
Fire Ecology Crew member Nathalie Besse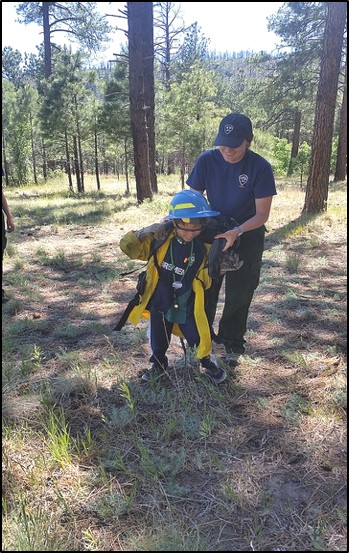 Camp participants spent the morning walking along Bandelier's Upper Crossing Trail, learning about ponderosa pine forests and fire. In the afternoon, camp participants met with Bandelier's Fire Ecology Crew. 
Collaborating with Bandelier's Fire Ecology Crew, camp participants had the opportunity to become junior Fire Management Officers while learning about the adaptive management process used by Bandelier's Fire Management Program. Campers were shown a model of a forest and asked to make decisions about forest health, management treatments, monitoring strategies, and how to evaluate their decisions.
A more lively part of the afternoon was the Personal Protective Equipment (PPE) relay race. After talking about the importance of safety equipment, participants raced to put on hard hats, eye protection, ear protection, and other safety equipment. Fun was had by all, especially the participants with slightly oversized hard hats.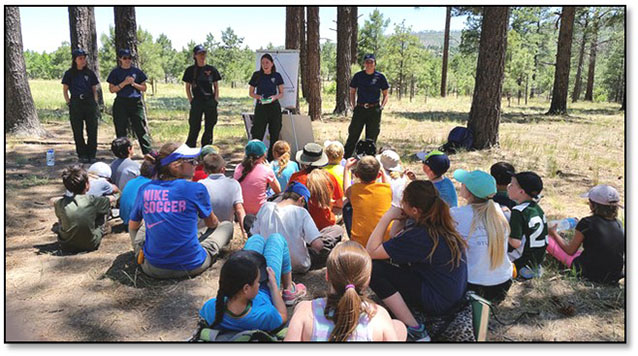 The afternoon was especially rewarding for the Fire Ecology Crew. Fire Ecology Crew member Nathalie Besse remarked, "To be able to show the campers how we, an all female crew, are both scientists and wildland firefighters was really neat. I hope we were inspiring."
Contact: Laura Trader, Ecologist, Bandelier National Monument, NM. laura_trader@nps.gov 
Last updated: December 15, 2017