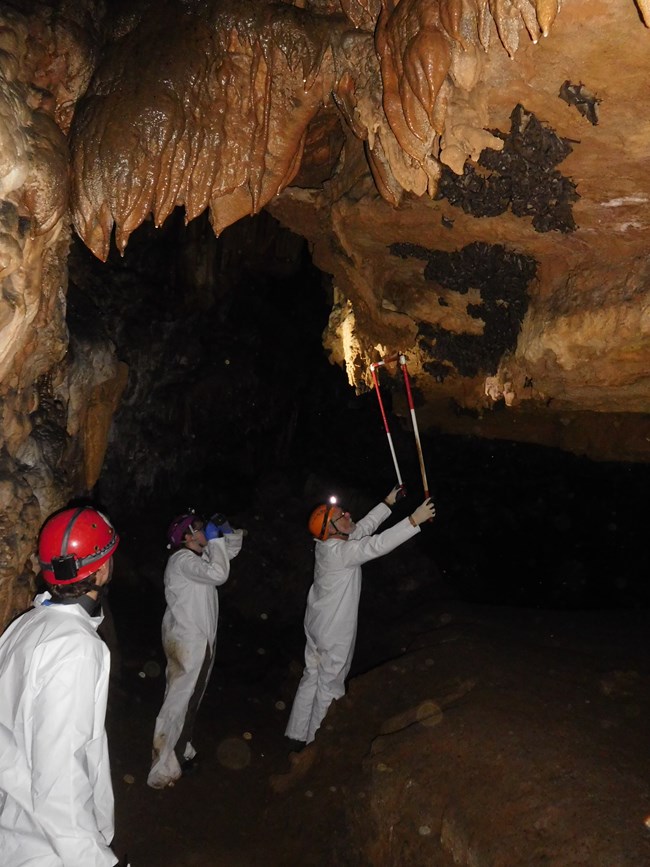 Submitted by Scott House, Ozarks Operation Manager for Cave Research Foundation

Our fears of bat decline were realized this past winter. Hardest hit were three species: pipistrelles, or tri-colored, (P. subflavus), northern long-eared bats (M. septentrionalis), and little browns (M. lucifugus) showed great declines with scarcely any septentrionalis showing up during this past winter's census. The park's educational tour cave, Round Spring Cavern, had a substantial drop in subflavus; two years ago there were over 500 counted, this year only 62.

Of the 88 caves monitored since the beginning of October, 39 had at least some bats. So the news was not all bad. For the most part, the Indiana bat (M. sodalis) and the gray bat (M. grisescens) were stable in their hibernacula, and a few showed some increases. One of our three, priority-one, gray bat caves showed a stable population of approximately 150,000 sleepers. However, with increasingly warm winters, many simply were not sleeping. Some grays showed up in their transient sites before March 1st. Further, active snakes were noted in or near several caves, even in January, not a normal occurrence. Another strange occurrence was the appearance of feral hogs using a minor sodalis hibernaculum for a den (the problem is being addressed).