Daniel Inouye: A Japanese American Soldier's Valor in World War II
From Near Internment to the United States Senate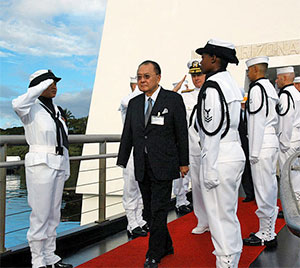 Daniel Inouye was one of the most influential politicians of the late 20th Century.  He had an unparalleled 50 year career in the United States Senate representing his home state of Hawaii ending in 2012.  He served as President pro tempore of the Senate in his final years which made him the highest-ranking Asian American politician in U.S history.   Much like his fellow senator and friend Senator Bob Dole, Inouye was a decorated World War II veteran.  Like Dole he brought a level of character and decorum that perpetuated the respectability and trust seen by all with the United States Senate.   His contributions to perpetuating National Park sites in Hawaii including securing funding for Kalaupapa National Historic Park as well as the continued preservation of the USS Arizona Memorial were immeasurable. 
Dan was born in Honolulu, Hawaii.  His parents had emigrated from Japan to settle in Hawaii's Bingham Tract which was a Chinese-American enclave in Honolulu.   Coming of age as tension grew with Imperial  Japan was hard enough,  but graduating from high school in Hawaii as a Japanese American immediately following the surprise attack of Pearl Harbor leading to the death of over 1,000 Americans prove especially difficult for Inouye.    Curfews were enforced for Japanese Americans in Hawaii.  There was an attempt to ship them to internment camps but the local economy for the islands relied heavily on Japanese American businesses.   He attempted to enlist in the military but was turned away.   He spent a year enduring insults and being questioned about  his patriotism. In 1943, when the  U.S. Army  dropped its enlistment ban on Japanese Americans, Inouye curtailed his premedical studies at the University of Hawaii and enlisted in the Army. 
"My father just looked straight ahead, and I looked straight ahead, and then he cleared his throat and said, 'America has been good to us. It has given me two jobs. It has given you and your sisters and brothers education. We all love this country. Whatever you do, do not dishonor your country. Remember – never dishonor your family. And if you must give your life, do so with honor.' I knew exactly what he ment. I said, 'Yes, sir. Good-bye." 
All-Nisei-442nd Regimental Combat Team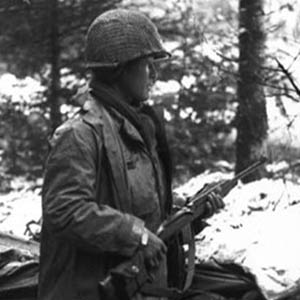 He volunteered to be part of the segregated all- Nisei-442nd Regimental Combat Team .   The 442nd Regimental Combat Team was activated on February 1, 1943 at Camp Shelby Mississippi.  The Team was composed of Japanese American volunteers from the internment camps, Hawaii, states outside of the west coast exclusion zone, and Japanese American soldiers who were already serving in the U.S. Army when the war broke out.   Inouye was promoted to sergeant within his first year, and he was assigned as a platoon sergeant. He served in Italy in 1944 during the Rome-Arno before his regiment was transferred to the Vosges Mountains region of France.
The Lost Battalion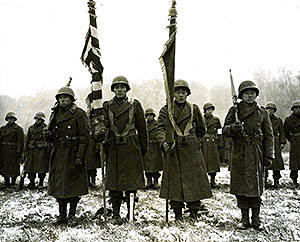 Inouye and the 442nd proved their unbridled valor in the Vosges Mountains when they were ordered to find and rescue a lost battalion of 400 U.S. infantry cut off and surrounded by German forces.   In five days of battle in the fall of 1944, the 442nd broke through German defenses and rescued 211 men. The 442nd suffered over 800 casualties. I Company went in with 185 men; eight walked out unhurt. K Company began with 186 men; 17 walked out.   As a result of his courage Sergeant Inouye with given a battlefield commission to second lieutenant.    At one point while he was leading an attack, a German round struck him in the chest directly above his heart, but the bullet was stopped by the two silver dollars he happened to have stacked in his shirt pocket.  He continued to carry the coins throughout the war in his shirt pocket as good luck charms. Three members of the 442nd,  Barney Hajiro, James Okubo, and George Sakato were awarded the Medal of Honor for their participation on the rescue, although due to discrimination at the time, they did not receive their medals until 2000.
The Gothic Line and the Medal of Honor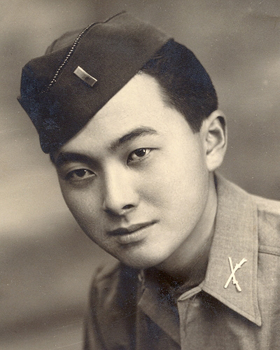 In early 1945 Lieutenant Inouye and the 442nd redeployed to the Gothic Line.   For nine months in 1944 German Field Marshal Kesselring directed the construction of the Gothic Line along the top of the Apennines in the mountains joining Italy and France. This included the Todt Organization known for its fortifications at Monte Cassino.  It was impossible terrain and the worst possible scenario for the  American forces attacking uphill against well-fortified and dug in German  infantry and artillery.   
On April 21, 1945 Lieutenant Inouye was leading a flanking attack on a heavily-defended ridge near San Terenzo in Tuscany, Italy.   The American platoon was in turn flanked in a surprise ambush by three MG-43 machine guns at relatively close range.  Inouye's platoon of 30 men was being cut to pieces.  He stood up to look for the best avenue for cover when he was shot in the stomach.  
Ignoring his wound, he proceeded to attack and destroy the first machine gun nest with hand grenades and his Thompson submachine gun.    When informed of the severity of his wound, he refused treatment and rallied his men for an attack on the second machine gun position, which he successfully destroyed before collapsing from blood loss.  As his squad distracted the third machine gunner, Inouye crawled toward the final bunker, coming within 10 yards. As he raised himself up and cocked his arm to throw his last grenade, a German soldier inside the bunker fired a rifle grenade, which struck his right elbow, nearly severing most of his arm and leaving his primed grenade reflexively "clenched in a fist that suddenly didn't belong to me anymore".  Inouye's horrified soldiers moved to his aid, but he shouted for them to keep back out of fear his severed fist would involuntarily relax and drop the grenade. While the German inside the bunker reloaded his rifle, Inouye pried the live grenade from his useless right hand and transferred it to his left. As the enemy soldier aimed his rifle at him, Inouye tossed the grenade into the bunker and destroyed it. He stumbled to his feet and continued forward, silencing the last German resistance with a one-handed burst from his Thompson before being wounded in the leg and tumbling unconscious to the bottom of the ridge. He awoke to see the worried men of his platoon hovering over him. His only comment before being carried away was to order them back to their positions, saying "nobody called off the war!"
The remainder of Inouye's mutilated right arm was later amputated at a field hospital and without proper anesthesia, as he had been given too much morphine at an aid station and it was feared any more would lower his blood pressure enough to kill him.  He had to endure his arm being sawn off without anesthesia.   He ceased carrying around his lucky silver dollars in his breast pocket.
After the War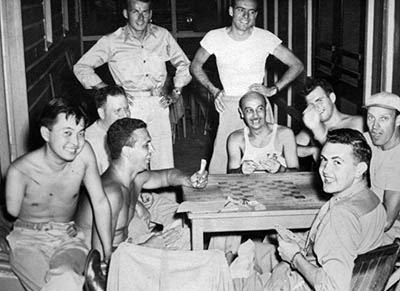 Although Inouye had lost his right arm, he remained in the military until 1947 and was honorably discharged with the rank of captain. At the time of his leaving the Army, he was a recipient of the Bronze Star medal and Purple Heart.  Inouye was initially awarded the Distinguished Service Cross for his bravery in this action, with the award later being upgraded to the Medal of Honor by President Bill Clinton (alongside 19 other  Nisei servicemen who served in the 442nd).   While recovering at Percy Jones Army Hospital in Battle Creek, Michigan;  he met and became friends with another recovering severely wounded young officer – Bob Dole.  The two became friends that lasted through their terms in the United States Senate and up to Inouye's death in 2012.  The Percy Jones complex of federal buildings, no longer a hospital, is now named Hart-Dole-Inouye Federal Center in honor of three patients who became United States Senators.
The Most Decorated Unit
The 442nd Regiment of Japanese-Americans would go on to be one the most decorated unit for its size and length of service in the history of American warfare.   The 4,000 men who initially made up the unit in April 1943 had to be replaced nearly 2.5 times. In total, about 14,000 men served, earning 9,486 Purple Hearts.. The unit was awarded eight Presidential Unit Citations (5 earned in one month).1 Twenty-one of its members were awarded Medals of Honor. Its motto was "Go for Broke".  They proved their loyalty to the United States of American in its greatest time of need like no other.
"Americanism is not and has never been a matter of race or color. 
Americanism is a matter of mind and heart."

- FDR 
Last updated: November 9, 2017