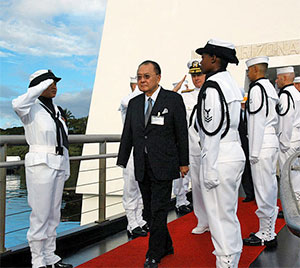 Daniel Inouye was one of the most influential politicians of the late 20th Century.  He had an unparalleled 50 year career in the United States Senate representing his home state of Hawaii ending in 2012.  He served as President pro tempore of the Senate in his final years which made him the highest-ranking Asian American politician in U.S history.   Much like his fellow senator and friend Senator Bob Dole, Inouye was a decorated World War II veteran.  Like Dole he brought a level of character and decorum that perpetuated the respectability and trust seen by all with the United States Senate.   His contributions to perpetuating National Park sites in Hawaii including securing funding for Kalaupapa National Historic Park as well as the continued preservation of the USS Arizona Memorial were immeasurable. 
Dan was born in Honolulu, Hawaii.  His parents had emigrated from Japan to settle in Hawaii's Bingham Tract which was a Chinese-American enclave in Honolulu.   Coming of age as tension grew with Imperial  Japan was hard enough,  but graduating from high school in Hawaii as a Japanese American immediately following the surprise attack of Pearl Harbor leading to the death of over 1,000 Americans prove especially difficult for Inouye.    Curfews were enforced for Japanese Americans in Hawaii.  There was an attempt to ship them to internment camps but the local economy for the islands relied heavily on Japanese American businesses.   He attempted to enlist in the military but was turned away.   He spent a year enduring insults and being questioned about  his patriotism. In 1943, when the  U.S. Army  dropped its enlistment ban on Japanese Americans, Inouye curtailed his premedical studies at the University of Hawaii and enlisted in the Army. 
"My father just looked straight ahead, and I looked straight ahead, and then he cleared his throat and said, 'America has been good to us. It has given me two jobs. It has given you and your sisters and brothers education. We all love this country. Whatever you do, do not dishonor your country. Remember – never dishonor your family. And if you must give your life, do so with honor.' I knew exactly what he ment. I said, 'Yes, sir. Good-bye."