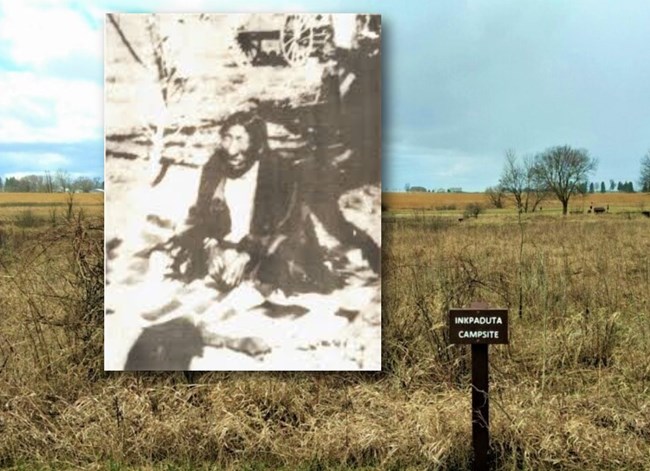 Inkpaduta (Iŋkpáduta) was the leader of a small Wahpekute band of Dakota. He did not sign the 1851 treaty that ceded northwest Iowa to the U.S. and so did not adhere to its restrictions. As settlers poured into the Midwest, pressures mounted as his band had to compete with growing numbers of new arrivals for resources. In the early 1850s, a whiskey trader named Henry Lott murdered Inkpaduta's blood brother Sintomniduta, along with Sintomniduta's wife and 5 children. Inkpaduta went to U.S. authorities, but Lott was never brought to justice. In an act of disdain, the prosecuting attorney publicly displayed Sintomniduta's head on a pole.
Then in 1857 a severe winter starved Inkpaduta's band, forcing them to go to settlers who also faced starvation, and beg for food. The settlers initially obliged, but eventually refused further help, disarmed the band out of fear, and pushed them out of the area. One of Inkpaduta's grandchildren died shortly after this confrontation.
Inkpaduta led his band toward the Spirit and Okoboji lakes, launching a series of small raids along the way. At Spirit Lake, he and his band killed over 30 people in what became known as the Spirit Lake Massacre. Three women and 13-year-old Abigail (Abbie) Gardner were taken captive. As Inkpaduta and his band fled with their captives from pursuing forces, they camped at the pipestone quarries.
Later in life, Abbie returned to the quarries and pointed out the location of the campsite. She remembered watching her captors "engaged in the delightful task of gathering the pipestone and shaping it into pipes, which were formed in the manner foretold ages ago." Abbie and Margaret Marble were the only two captives to survive and were eventually ransomed; Elizabeth Thatcher and Lydia Noble had been killed.
Inkpaduta eluded capture while engaging in more skirmishes against U.S. forces, earning him an almost mythic reputation and blame for other attacks he was not a part of. Records indicate that he was present at the Battle of the
Little Bighorn
with Sitting Bull and Crazy Horse against Custer. Following the battle, he fled with others into Canada and never returned. He died in Canada around 1881.
Several books have been written about Inkpaduta for those interested in learning more about this elusive Dakota leader.