Pennsylvania: Independence National Historical Park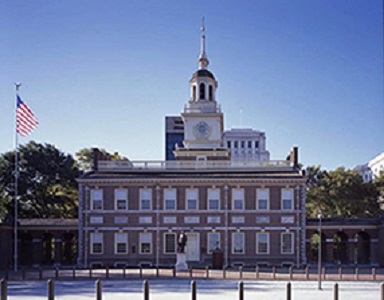 Philadelphia has a rich, diverse history. Before Englishman William Penn founded the city in 1682, the Finns, the Dutch and the Swedes had previously colonized the area. All Europeans traded with the native peoples who resided in the Delaware River Valley. United by their common language and subjugation to the British Crown, the English, Scots, Irish and Welsh recognized one another's cultural differences as well as their commonalities when they mingled here. Penn promoted his colony heavily in the Rhineland, today part of Germany. Germans became a significant component of Pennsylvania's population. By 1776 when members of the Second Continental Congress signed the Declaration of Independence in the Pennsylvania State House (now Independence Hall), Philadelphia had a bustling port second only in size to Liverpool. Trade, opportunities for land ownership, and Penn's founding principle of religious toleration all attracted an exceptionally diverse society. Independence National Historical Park, enabled by Congress to commemorate the creation of the United States of America and the establishment of modern, democratic government, rests on a long tradition of cultural diversity. The park and its associated sites offer many opportunities to view the past through the lenses of ethnicity and race.
In demonstration of the religious tolerance granted by William Penn in his 
Charter of Privilege,
Independence National Historical Park's borders were drawn to align with historic churches of several denominations. Small buffers of park land abut Old St. Joseph's and St. Mary's Catholic Churches, Christ Church (Protestant Episcopal), and St. George's Methodist Church. The original cemetery of Mikveh Israel Synagogue and the Free Quaker Meeting House are within park boundaries. Independence preserves and interprets the home of Bishop William White, the first consecrated Bishop of the Protestant Episcopal Church in America and Chaplain of the Continental Congress. Close by is the restored home of the Quaker Todd family, whose lives were greatly changed by a yellow fever epidemic in 1793. White ordained Absalom Jones, the first rector of the African Episcopal Church of St. Thomas. James Dexter held founding meetings for Jones' church in his home. The site is now marked on North Fifth Street in the park. 
Gloria Dei or Old Swedes Church is a National Historic Site that recalls the era of Swedish colonization. Consecrated in 1700 for a Lutheran congregation, by the mid-eighteenth century, Sweden ended its mission and an Episcopal congregation occupied it. Gloria Dei is included in this travel itinerary as a separate site. Click 
here
for more information. 
At Third and Pine Streets, the Thaddeus Kosciuszko National Memorial commemorates the temporary residence of the Polish hero who fought for American independence and for his own country's freedom. Serfdom still flourished in Poland making Kosciuszko particularly sensitive to slavery in America. He wrote a will that provided opportunities for freed blacks. In Independence Hall, visitors can see the room where Pennsylvania's colonial Assembly passed the Gradual Abolition Act in 1780 by which an enslaved woman's child was born free but remained indentured for 28 years. The United States Constitution, framed in this same room in 1787, is a model for democratic governments throughout the world. However, the document excluded women from the franchise and perpetuated slavery, paving the way to America's Civil War seventy-four years later and its long legacy of racism. 
In Congress Hall, delegates ratified the Bill of Rights in 1791. Despite this achievement, Congress repeatedly denied petitions from Free African organizations to abolish slavery and end the trade in human chattel.
When the Federal Government located in Philadelphia in 1790 for ten years while the nation's new, permanent capital was under construction, President Washington brought some of his slaves from Mount Vernon. Dwelling in the executive mansion on Market Street, those slaves moved freely throughout the city interacting with the growing free black community. They may have visited today's Washington Square where enslaved and free blacks congregated at night. Washington hired entrepreneur Richard Allen, a founder of the Free African Society and Mother Bethel African Methodist Episcopal Church, to sweep his residence's chimneys. Several slaves accompanied the president's family to their summer retreat (now part of Independence) in Germantown. Washington signed the Fugitive Slave Act in the executive mansion in 1793 making it a federal crime to aid a slave's escape and denying captured slaves legal defense or a jury trial. Despite this law, the anti-slavery movement flourished here. One of Washington's slaves, Oney Judge, credited the free black community's assistance in her escape to freedom from the house in 1796. The story of the contradiction between freedom and slavery is told in Independence's newest exhibit, The President's House, on the site of the executive mansion.
The Second Bank of the United States Portrait Gallery displays the largest single collection of life portraits of founders of American government, officers of the American Revolution and the War of 1812, and leaders of the new Republic. The collection includes French, German, and Polish heroes such as Lafayette, von Steuben, and Pulaski who aided America's cause. Mohawk war chief Joseph Brandt was a British captain during the Revolution, but later traded with the Americans. Delegations of native peoples often came to Philadelphia for diplomatic purposes. 

In the 1790s, refugees from the French and Haitian revolutions brought French thought and culture to Philadelphia. The product of a French education, Benjamin Franklin's grandson, Benjamin Franklin Bache, ardently supported Jeffersonian politics. He belonged to a Democratic Republican Society, a watchdog group modeled after French Jacobin clubs, and may have hosted meetings in his Aurora newspaper office in Franklin Court. Visitors can see this refurnished office and learn how the Adams administration prosecuted Bache under the Alien and Sedition Acts. 
A diverse society requires tolerance of ideas. Since the early 19th century, Independence Hall and the Liberty Bell have become symbols of liberty, freedom, and human rights. Frederick Douglass, Abraham Lincoln, Elizabeth Cady Stanton, Martin Luther King, Jr., John F. Kennedy, and Nelson Mandela have voiced their convictions in front of these icons. Every week visitors observe people exercising their First Amendment rights by publicly advocating their causes. Visitors can witness democracy in action and remember that not only ethnic and racial diversity, but also a diversity of points-of-view make a strong society.
Independence National Historical Park, a unit of the National Park System, is located throughout 26 public buildings and many outdoor exhibits and gardens throughout Philadelphia, PA. Click here for the National Register of Historic Places registration file: text and photos. The former Pennsylvania State House, now Independence Hall, is listed on the World Heritage List. Independence Hall and the Liberty Bell are open all year, 7 days per week except December 25. Access to other buildings within the park varies seasonally.  The Independence Visitor Center at Sixth and Market Sts. offers orientation and information on daily building hours and programs.  All park buildings and activities are free. For more information, visit the National Park Service Independence National Historical Park website or call 215-965-2305. From March through December, tickets are required for admission to Independence Hall. Visitors may reserve free tickets in advance on the web at www.recreation.gov, by telephone at 1-888-444-6777 or 1-518-885-3639. There is a nominal fee for the reservation.
The Thaddeus Kosciuszko National Memorial is located at Third and Pine Sts. in Philadelphia.  For hours of operation, special programs and directions for arriving by car or public transportation, please call 215-597-7130 or visit the National Park Service Thaddeus Kosciuszko National Memorial website.  An orientation film and special interpretation of Kosciuszko's refurnished bed chamber are available in English or Polish.
Independence National Historical Park is the subject of two online lesson plans, Independence Hall: International Symbol of Freedom and The Liberty Bell: From Obscurity to Icon produced by the National Park Service's Teaching with Historic Places program, which offers a series of online classroom-ready lesson plans on registered historic places. To learn more, visit the Teaching with Historic Places home page. For teachers, the Independence Park Institute offers distance learning, on-site classes and trip planning for grades K-12.  Specific information is on the "For Teachers" section of www.nps.gov/inde.  Free, downloadable teacher's guides are on this site including pre and post visit lessons.  The popular Hedgehog's Herald is also available as a teaching resource on the American Revolution.  The Institute also offers accredited workshops for teachers during the summer.  For further information, please call 215-597-2760.
Last updated: August 4, 2017