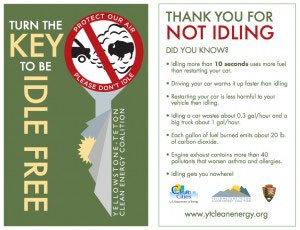 Each year, vehicles in the United States consume more than
6 billion gallons
of diesel fuel and gasoline—without even moving. Roughly half of that fuel is wasted by passenger vehicles.
The U. S. Department of Energy's Clean Cities Coalition
National Parks Initiative
supports transportation projects that educate park visitors on the benefits of shifting to affordable, domestic alternative fuels, advanced vehicles, and fuel-saving technologies and strategies. Through this program the
Yellowstone-Teton Clean Energy Coalition
helped the park to develop a messaging campaign to decrease idling by employees and visitors alike. Efforts included vehicle stickers, reminder cards, an Idle-Free pledge for businesses, and education addressing common misconceptions about the need for idling.