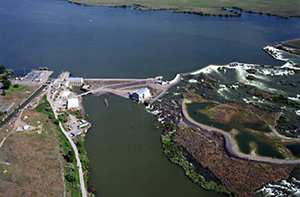 In 1914, students braced against the chilly Idaho temperatures as they left their homes and traveled through the local farmland to the town of Rupert, where they filtered into their newly built "electric high school"—touted as a first in the nation. Inside, the temperature was a pleasant 68 degrees. Not only were the rooms warm, but electric lights glowed, and hot water flowed in the lavatories. In the "domestic science" rooms, girls exchanged winter coats for aprons and cooked on electric hot plates and ranges. Rupert Electrical High School even had a "good electric bell" connected to the principal's office. All was made possible, The Salt Lake Tribune explained, by electric current flowing from "the Minidoka government dam" on the Snake River, 14 miles east of town.
Although the newspaper did not mention it, the power to heat Rupert's schoolhouse came, not from the dam, but from its companion—the Minidoka Powerplant, originally built to provide electricity to pump irrigation water to desert lands on higher terraces along the Snake River. At each lift station, pumps lifted water approximately 30 feet from one segment of the main canal up to the next higher segment. On each terrace, the water then flowed by gravity through the irrigation system on that terrace.
Reclamation quickly realized that the new powerplant was capable of generating more electrical power than was used to operate the lift stations. As a result, Reclamation soon was delivering "excess power" to nearby towns and to rural homes on the Minidoka Project, where farm families sang the praise of Reclamation's electricity. Not only was it cheap compared to coal, but electric radios and the glow from neighboring farms eased one's feelings of isolation. Thus did Reclamation's Minidoka Project make headlines as a pioneer in public power.