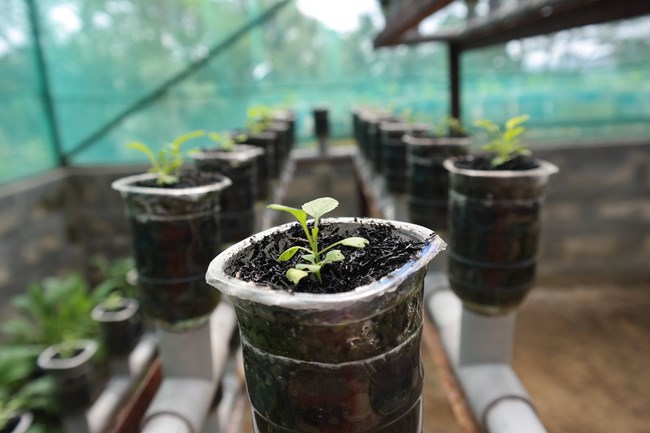 When you think about the produce grown for concession food service operations, do you picture acres of open fields, rows of tilled soil, and seedlings lining the tops of the mounds? While much of the world's fruits and vegetables are grown this way, there are other ways to grow produce without large amounts of land — and even without soil!
Hydroponic plants are exposed to light to allow for the process of photosynthesis, and plant roots are exposed to air allowing the roots to capture oxygen that they need to grow. Nutrients mixed into water include:
Phosphorus

Nitrogen
Calcium
In some hydroponic systems, a growing medium is used to support the plant roots and allow for more effective water absorption to the root structure. One type of growing medium commonly used is coconut coir — a shredded fibrous product made from coconut husk. A subset of hydroponics, called aeroponics, requires only light, water and nutrients, and does not use a growing medium.
What Are the Benefits of Hydroponics?
Enhanced plant yields: Hydroponic plants produce a greater yield of fruits and vegetables because in a hydroponic system plants are more densely spaced together compared to the size of land that would be needed to grow the same number of plants. Also, in a hydroponic system many of the elements that can enhance plant growth — such as the pH level of the water, nutrient content of the water, amount and type of light, etc. — can be better controlled.

Less water: Hydroponic systems use less water — as much as 10 times less water — than traditional field crop watering methods because water in a hydroponic system is captured and reused, rather than allowed to run off and drain to the environment.

Locally grown: Indoor hydroponic systems allow plants to grow almost anywhere all year round.

Less space: Hydroponic systems come in a variety of designs including vertical stacking systems that take up a small amount of space.
What Are theTypes of Hydroponic Systems?
There are several types of hydroponic systems.