Ho`oikai`ka: The Volunteer Fire Department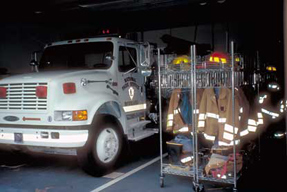 Ho`oikai`ka, "together strong" is the Kalaupapa National Historical Park volunteer fire department's motto. Composed mostly of NPS employees, the volunteer fire department exists to protect both life and property from loss through fire.
Unfortunately, Kalaupapa has a long history of fires. In 1906 St. Francis Catholic Church in Kalaupapa burned to the ground; in 1914 the Bayview Home burned; in 1928 the McVeigh Home burned; and as recently as 1990 the old Kalaupapa hospital was destroyed by fire. Most of the buildings in the settlement are historic structures, with many of them dating to the 1930s or earlier.
With the nearest fire department located at Ho`olehua on "topside" Moloka`i, a mere 2,000-foot-high cliff away, Kalaupapa has had to rely on its own residents to fight fires. The National Park Service volunteer fire department was founded in January 1993 and has a 1992 Pierce Responder fire engine, with the ability to hold 750 gallons of water and deliver up to 1,250 gallons per minute.
Since 1993 the fire engine has been called out on several occasions, to combat brush fires, structural fires, and automobile fires. The Kalaupapa volunteers have yet to rescue a kitten from a tree, but with ongoing training and monthly practices, they will protect Kalaupapa's people and architectural legacy.
Last updated: October 14, 2016