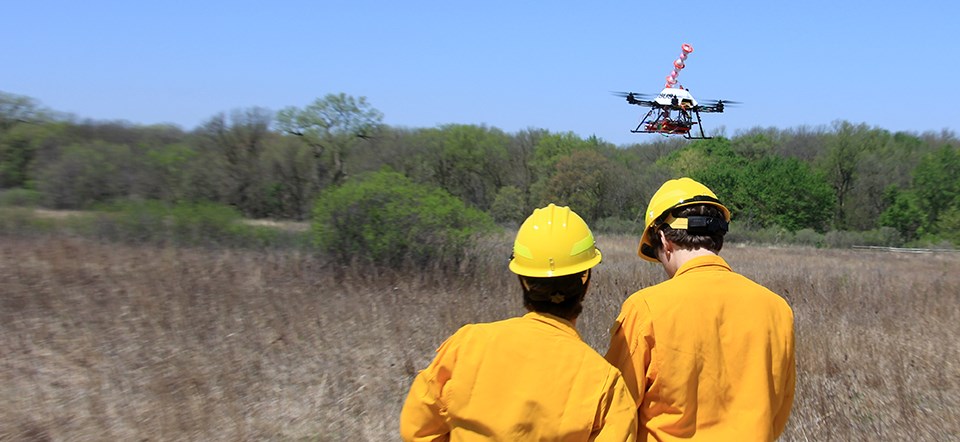 On April 22, 2016, Homestead National Monument of America conducted the first prescribed fire in the National Park Service (NPS) using a small Unmanned Aircraft System (sUAS) for interior ignition. Twenty six acres of restored tallgrass prairie were successfully burned according to management objectives through the collaborative efforts of the Department of Interior National Park Service and the University of Nebraska-Lincoln (UNL).
The sUAS was from the University of Nebraska-Lincoln's Nebraska Intelligent Mobile Unmanned Systems (NIMBUS) Laboratory. The UNL system is a greatly scaled down version of a manned helicopter aerial ignition device. A multidisciplinary team of UNL experts in micro-UAS technology, fire ecology, conservation and public policy is developing this unmanned aerial system for supporting prescribed and wildland fire operations.
Jim Traub, NPS Unmanned Aircraft System Specialist, said: "UAS's in firefighting have the potential to reduce direct risk to firefighters doing ignition work while reducing costs and making an aerial resource more widely accessible to wildland firefighting efforts." Traub added, "The National Park Service was pleased to facilitate this unique and innovative opportunity with UNL, for this test of an sUAS in a fire situation."
Homestead National Monument of America, the NPS Midwest Region Fire and Aviation Program, and the NPS National Aviation Offices collaborated with UNL's NIMBUS Laboratory and the Department of Interior Office of Aviation Services (OAS) for this operational test and evaluation of the integration of sUAS into wildland fire operations. The goal with the Homestead prescribed fire was to conduct a live test of the sUAS consistent with the intent of 2015 UAS Technology Overview approved by then NPS Associate Director of Visitor Resource Protection, Cam Sholly; Department of the Interior Deputy Assistant Secretary, Kim Thorsen; Office of Aviation Services, Director Mark Bathrick as well as other bureaus co-located at the National Interagency Fire Center.