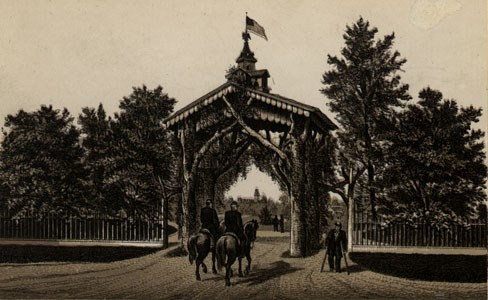 Veterans Services in the United States
After the American Revolutionary War, the Federal Government paid pensions to those veterans who had service related injuries. The government expanded this pension system in 1818 to include any veteran who needed assistance, making clear that the pension was a reward for service, not a charity. In 1833, as a result of heightened demand, Congress created the Bureau of Pensions to administer these benefits. Congress passed the General Pension Law in 1862 to make benefits available to Civil War veterans who had service related injuries or disease.
Established in 1811, the first institution in the United States for servicemen was the U.S. Naval Asylum in Philadelphia. In 1851, the U.S. Soldiers Home in Washington, DC opened for men with service related disabilities or men who had at least 20 years of service. To be eligible for these homes, a soldier paid into the system through pay deductions over the course of his career.
National Home for Disabled Volunteer Soldiers
Charitable organizations and concerned citizens had long recognized the need for a place to care for disabled veterans. The injured and debilitated men who returned home from the Civil War needed long term care, often more than their families could offer. As volunteers, they were not eligible for care in the homes serving career military veterans. Even though these veterans were eligible for pensions, it was not always enough to help them cope with their injuries or chronic illnesses. Many people believed that creating a home for veterans was the best way to care for these disabled men.
Legislation for the creation of the National Asylum of Disabled Volunteer Soldiers was introduced to Congress on February 28, 1865. Both Houses of Congress quickly passed the legislation, and President Lincoln signed the bill in March 1865, just a month before his assassination. In 1873, the name was changed from National Asylum of Disabled Volunteer Soldiers to the National Home for Disabled Volunteer Soldiers, to remove any stigma attached to the term "asylum."
As described by the Board of Managers, "the Home is neither an [sic] hospital nor alms-house, but a home, where subsistence, quarters, clothing, religious instruction, employment when possible, and amusements are provided by the Government of the United States. The provision is not a charity, but is a reward to the brave and deserving." The Board of Managers envisioned a system of branches located across the country. The Federal Government built three branches within the first year, and the system grew to 11 National Home branches by 1929.