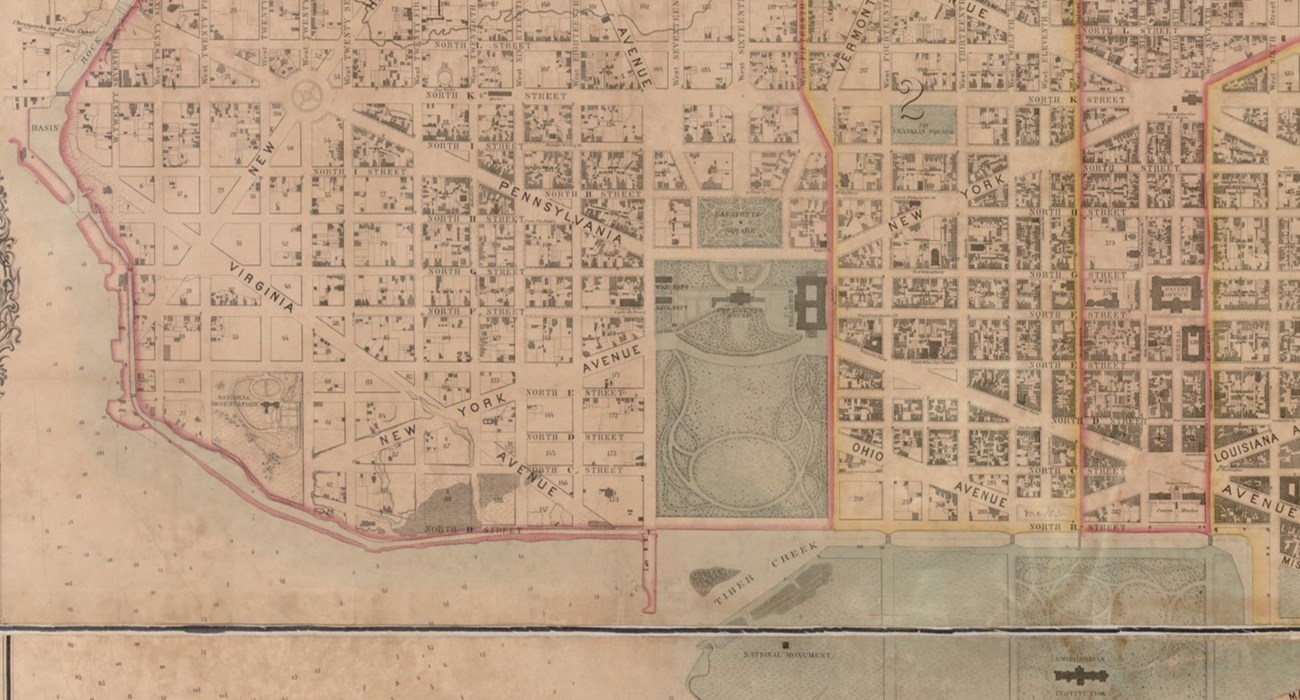 The wharf at 17th Street was a prominent feature of the 19th -century landscape. Construction of the wharf followed an 1806 act of the City Council that appropriated $2,000 for the construction of a wharf at the end of 17th Street. Specifications for the wharf were announced in National Intelligencer in 1807, and construction was completed later that year. Materials used in construction were few and simple: white oak timber, bluestone and earthen fill. One year later, additional improvements to the 17th Street area, including the wharf, were authorized by the City Council, with a $1,000 appropriation.
The 17th Street Wharf continued to expand in the 19th century. By mid-century, the wharf extended about 750 feet into the mouth of Tiber Creek, with a width of about 150 feet. The wharf was initially used to import building materials, produce and household necessities. By mid-century coal and wood assumed greater importance. A description of the wharf was given by General H.G. Wright, Chief of Engineers, Army, in an 1881 letter. At that time, the wharf extended almost 1200 feet into the mouth of Tiber Creek, or what had become the basin at the mouth of the Washington Canal. In addition to sand and gravel dealers, the wharf also included a small lunch room operated by an African-American man named Henry Hill (Wright 1881). The 17th Street Wharf disappeared with the construction of 17th Street (then Park Entrance Road) below B Street (now Constitution Avenue), in 1902.
References
Boschke, A.1857. Map of Washington City, District of Columbia. A. Boschke. On file, Geography and Map Division, Library of Congress, Washington, D.C.

Wright, H.G. 1881. Letter, Brig. Gen. H.G. Wright to Col. A.F. Rockwell, August 30, 1881. Record Group 42, Record of the Office of Public Buildings and Public Parks of the National Capital, Entry 228, Box 1. U.S. National Archives and Records Administration, Textual Records, Washington, D.C.