Article
Hip Hop Camp at Florissant Fossil Beds National Monument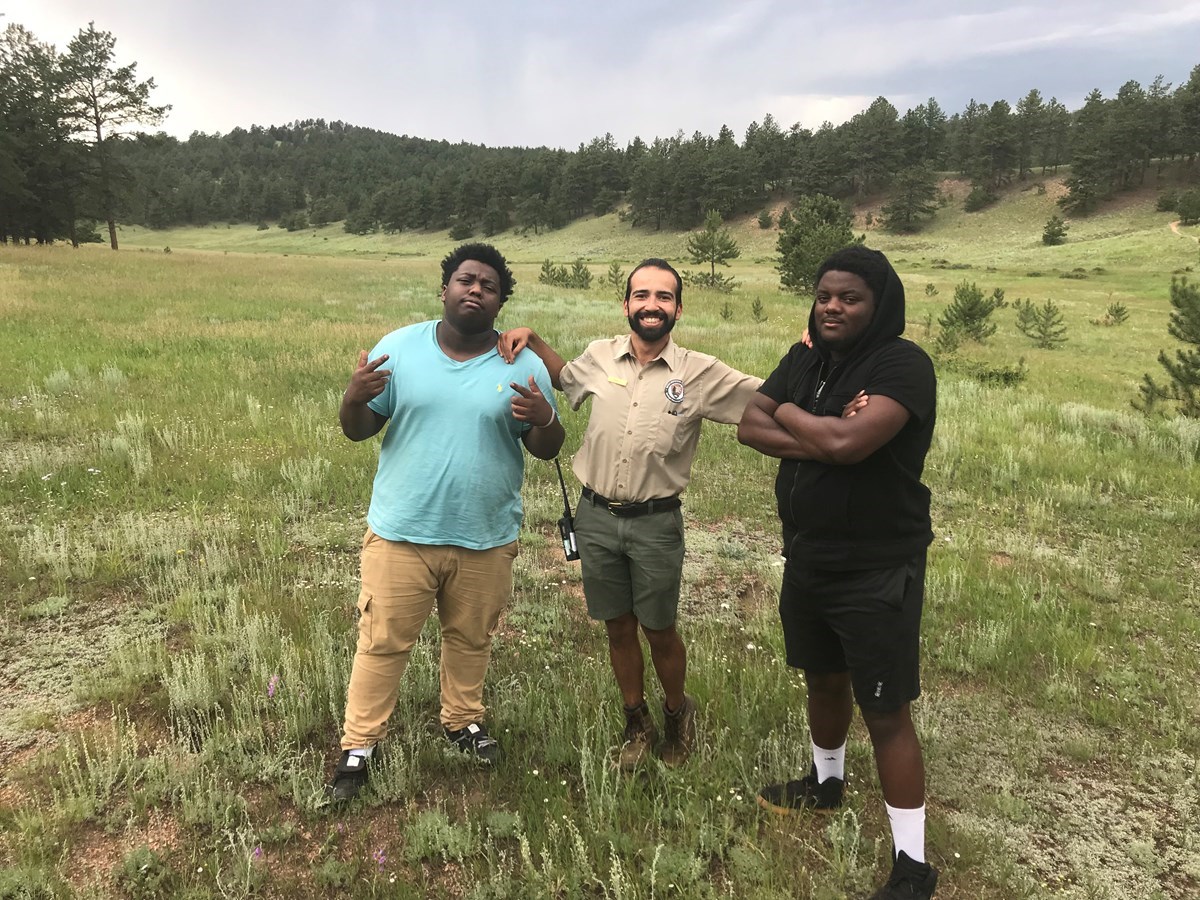 During the summer of 2019, Florissant Fossil Beds hosted Hip Hop Boot Camp. Hip Hop Boot Camp was inspired by the work of the Youth Ambassador Program (YAP!) which started at New Bedford Whaling National Historical Park. The goal of YAP! is to connect youth to the NPS and its mission through hip-hop music.

Through the Interpretation and Education fund, FLFO was able to fund a project this year. The park collaborated with Ben Gilbarg of Big Picture Anthems (BPA) in Oakland, California. BPA utilizes the power of music and video to produce communication movements that have an educational and social impact on society. Ben Gilbarg was one of the founders of the YAP! program. Another partner was the National Council for the Traditional Arts. The goal was to find two high school aged youth hip-hop artists, provide opportunities for them to deeply connect to Florissant Fossil Beds, and have them compose and record two hip-hop songs about their experience at the Monument. Jeff Wolin, Lead Interpreter for the Monument, and Education Intern, Kevin Jauregui (Geoscientist in the Parks Intern) led the efforts.

In late July, Ben Gilbarg along with Nehemiah Vaughn and Joey Lovett embarked on a journey to Florissant Fossil Beds National Monument. Joey Lovett, also known as Cangaroo, is a 19-year-old Hip Hop artist from West Oakland who was inspired to write music at the age of 15 when one of his closest friends was murdered and turned to music as a healthy way to find healing. Nehemiah Vaughn, also known as Nuisance, is a 19-year-old Hip Hop artist from Oakland who started rapping as an outlet for his anger and painful obstacles he was facing and while informing others that they are not alone with any hardships they may be facing.

For two full days, these three artists accompanied by Kevin Jauregui, took in a mind-blowing amount of information. Nehemiah, Joey, and Ben hiked on the Monument's trails, learned about paleontology, and searched for fossils at a nearby privately owned quarry. They experienced wildlife and became absorbed in deep time, and they learned about the human history at Florissant. During their time at the Monument, Joey and Nehemiah began to free-style to beats provided by Ben. With beautiful mountain meadows and Pikes Peak in the background, they would pull out their laptop and just start rhyming. In mid-August, just days before the Monument celebrated its 50th anniversary, Ben emailed rough drafts of the two songs they created. The songs were amazing and even gave Jeff and Kevin chills!

The two songs written by Joey and Nehemiah expressed the joy and freedom they experienced at the park. One of their songs called "The Defenders of Florissant" was inspired by the landmark environmental law case and grassroots effort, which saved the Florissant Fossil Beds from development in the late 1960s. The song was so amazing and inspirational, it was played at the 50th anniversary celebration and the crowd was in awe.
Circle of Life

Hip Hop song written by Nehemiah Vaughn and Joey Lovett (aka Nuisance and Cangaroo)
Last updated: April 16, 2020