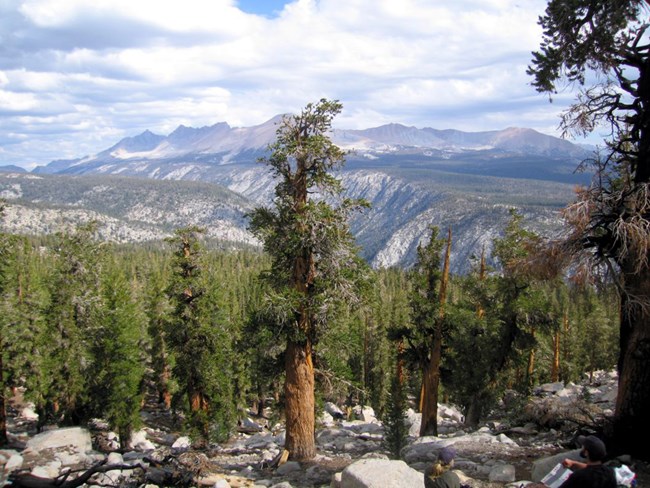 Background
Whitebark (Pinus albicaulis) and foxtail (P. balfouriana) pine are five-needle white pines that occupy high-elevation Sierra Nevada treeline and subalpine habitats, environments often too harsh for other tree species to thrive. Because these pines often occur in pure to nearly-pure stands, they can have a large influence on key ecosystem processes and community dynamics, such as regulating snowmelt and stream flow and providing habitat and food resources for birds and mammals. These pine species are currently threatened by the combined effects of multiple novel stressors. Severe declines in whitebark pine are occurring nearly range-wide, and the species is warranted for listing as a federally endangered species. Whitebark and foxtail pine reach their southernmost distribution in the Sierra Nevada range where populations of both species are still relatively healthy.
The Sierra Nevada Network worked with two other Inventory & Monitoring networks —Klamath and Upper Columbia Basin — to develop a
monitoring protocol
for white pine species in five national parks. The Sierra Nevada Network initiated monitoring of whitebark pine and foxtail pine in Sequoia & Kings Canyon and Yosemite in 2011. Similar monitoring methods across these networks will facilitate regional analyses of status and trends of forest population dynamics and incidence of pathogens and insects.