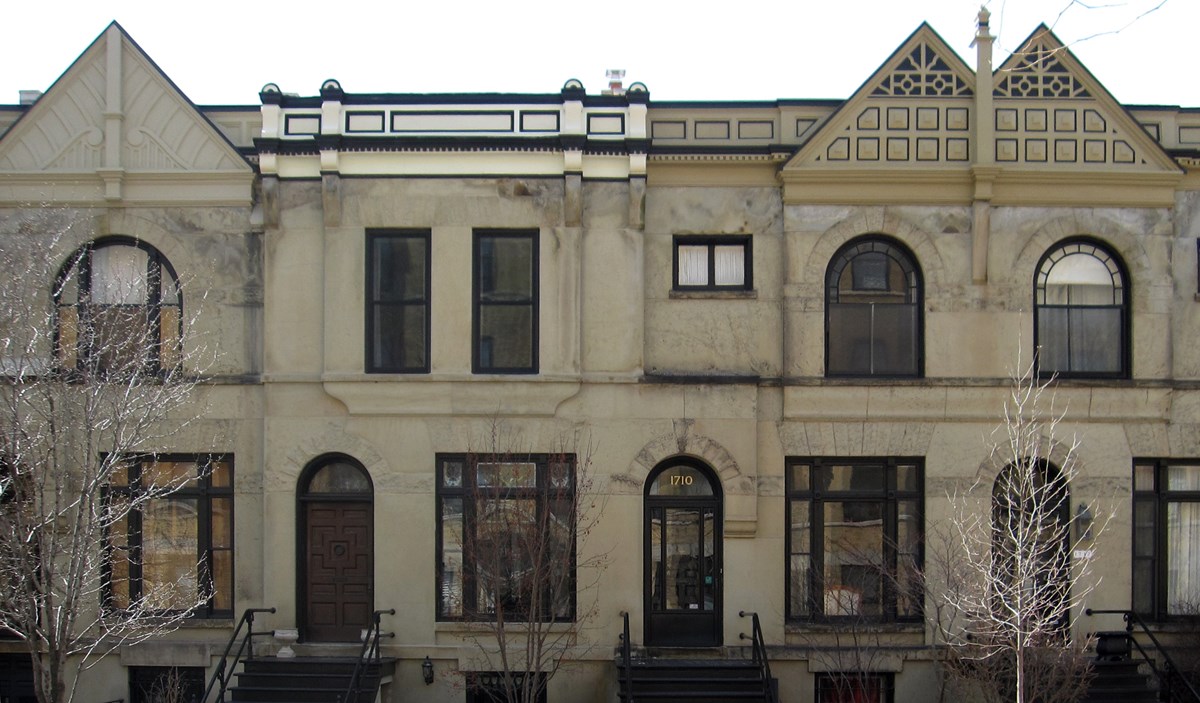 In June 2015, the Henry Gerber House, in Chicago, was designated the second National Historic Landmark (NHL) where the primary significance of the nomination is due to its place in American Lesbian, Gay, Bisexual, Transgender, and Queer (LGBTQ) history. Stonewall (NHL designation in 2000) in Greenwich Village, New York, was the first. The nomination became an official NHL during the middle of LGBTQ Pride month this year and now stands as an exceptional example of LGBTQ history within the Midwest Region. It also contributes to the National Park Service's (NPS) LGBTQ Heritage Initiative. Today, Henry Gerber is hailed as the "Grandfather of the American Gay Movement" in the United States. All information and quotes for this article are taken from the NHL nomination.
Henry Gerber lived at 1710 North Crilly Court in Chicago, from 1924 to 1925. The then-boarding house served as the meeting place of the first official organization in the U.S. that advocated for homosexual equal rights—the Society for Human Rights—and it was also the location where the first homosexual periodical,
Friendship and Freedom
, was published. Gerber did not identify as homosexual in the earlier part of his life.
Henry Gerber was born on June 29, 1892 as Josef Heinrich Dittmar in Passau, Bavaria. He arrived at Ellis Island in October 1913. Upon immigrating to the United States at the age of 21, he, like many German immigrants, enlisted in the U.S. Army. When the U.S. declared war on Germany during World War I, Gerber declared himself a conscientious objector and for doing so was sent to an internment camp in Georgia. After being released, he then traveled to Chicago where he worked at Montgomery Ward's Department Store.
Although it is impossible to identify when Gerber began to reconsider his sexual orientation, evidence suggests that post-war Germany profoundly shaped how he viewed homosexuality and influenced his later activism. He reenlisted in the army in 1919 after World War I and was stationed in Coblenz, Germany, where he worked as the writer and editor of the army newspaper, Amaroc. Gerber subscribed to several German homosexual periodicals.
The NHL nomination notes that Gerber made frequent trips to Berlin, and his experiences in Germany are attributed to the development of his world views. The political activism, medical discourse, and urban subcultures of German homosexuals impressed him deeply and informed his later vision for homosexuality in the United States and the goals of the Society of Human Rights.
Gerber named the Society for Human Rights after the Bund für Menschenrecht, or "League for Human Rights," an association active in Germany in 1923. Organizations such as this one published their own periodicals—certainly an idea that Gerber took back to Chicago.
When Gerber returned to Chicago in 1923, he rented a room in a boarding house at 1710 North Crilly Court. He "found that the American scene lacked the respectability, political awareness, and scientific sophistication he had appreciated in Germany," and therefore distanced himself from the Chicago homosexual scene. Although Crilly Court was not considered an established vice district, its large population of temporary lodgers and its accessibility to prostitution attracted those with "unconventional life-styles, sexual preferences, or political leanings."
Additionally, 1710 North Crilly Court's placement offered unforeseen advantages for Gerber's lifestyle and activist plans, as it was located in the middle of a short, secluded street of row houses, with West Saint Paul Avenue and West Eugenie Street bounding it perpendicularly at each end. Gerber probably rented the small bedroom on the second floor and the basement likely served as a meeting space for the Society.