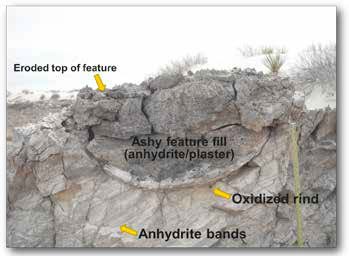 These archaeological sites do not occur outside of the gypsum dune field and are likely not found anywhere else in North America, or possibly the world. These sites are known as "hearth mounds" and contain the remains of prehistoric campfires or roasting pits, known as hearth or thermal features.
These archaeological sites formed when fires were built in the dunes; the heat from those fires converted the gypsum sand to anhydrite or hemihydrate (like Plaster of Paris). When the hearth features are exposed to moisture, the anhydrite material forms a hardened crust on the surface of the dune, preserving dateable charcoal, bone, pollen, and other cultural material. The portion of the dune encapsulated by this hardened crust erodes slower than the soft gypsum sand and remains intact as the dune migrates. Hearth mound sites vary in height and in the number of thermal features they contain. Thermal features are typically located on top of the mound, and when other cultural materials are present, they are usually concentrated at its base.
The challenging nature of the monument's terrain makes pedestrian survey difficult and because of this only 5% of the property has been intensively surveyed for cultural resources. However, the erosional processes which occur at these sites result in a unique "footprint," which is identifiable using remote sensing techniques. Recent remote sensing surveys conducted at the monument have revealed the presence of possibly thousands of potential archaeological sites throughout the dunes.
Objectives
Objective 1 - Use remotely sensed imagery and photo interpretative techniques to develop a map of potential hearth sites.
Objective 2 - Conduct field reconnaissance/ground-truth surveys to evaluate the precision and accuracy of the remote sensing data.
Objective 3 - Document and date a sample of "hearth mound" sites.