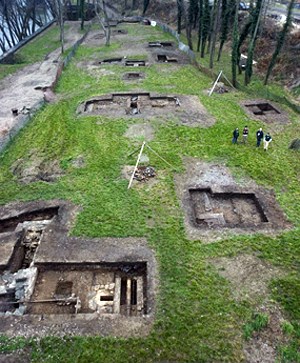 Harpers Ferry National Historical Park
is home to cultural resources spanning thousands of years, from pre- European contact Indian populations to the time of John Brown's infamous raid and the Civil War up to the town's inception as a historical park in the 20th century. With this much accumulated history, the park has a major responsibility to preserve, protect, and understand material remains from those time periods. Since a large part of Harpers Ferry's history lies buried, archeology is intrinsically critical to cultural resource stewardship. NPS archeologists are actively engaged in excavating cultural remains to inform the public.
A large part of that responsibility falls upon the park Division of Resource Management and the Archeology Program. They are tasked with, among other things, documentation, investigation, and compliance with the laws governing these multi-faceted resources so that the public today and tomorrow can benefit from that shared heritage.
The Archeology Program is involved in an ongoing investigation of the Lower Armory Grounds. This land, acquired in 2001 from CSX Corporation, contains the remains of the second national armory commissioned by the United States in 1798. An important part of this land acquisition was gaining access to the remnants of the infrastructure that was integral to the operation of the Armory. One such feature is the tailrace tunnels. The investigation of the armory grounds and a tailrace highlights the park's devotion to fulfilling its obligation of both understanding its resources in order to better protect them and to present that information to the public for a more comprehensive experience of this facet of American history.