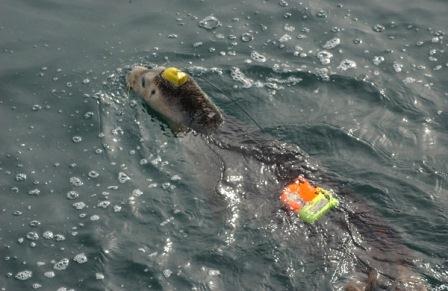 Harbor seal populations in Glacier Bay may be one of the most protected, as Glacier Bay is one of the largest marine protected areas in the northern hemisphere. A study conducted by the National Park Service in collaboration with the National Marine Mammal Laboratory and Oregon State University quantified the post-breeding season (September-April) movement patterns of harbor seals in relation to marine protected area boundaries of Glacier Bay.
Satellite-linked transmitters were attached to 37 juvenile and adult female harbor seals in September of 2007 and 2008 in Johns Hopkins Inlet. Harbor seal tracks were analyzed using state-space models and utilization distributions were created in ArcGIS to quantify space use of seals relative to the marine protected areas of Glacier Bay.
Harbor seals traveled extensively throughout southeastern Alaska, the eastern Gulf of Alaska, and Prince William Sound, utilizing an area of approximately 25, 325 km2. These movements included the longest migration yet recorded for a harbor seal (3, 411 km) and extended use (up to 23 days) of pelagic areas by some seals. Although the collective distribution of harbor seals during the post-breeding season was expansive, there was a substantial degree of individual variability in the percentage of days that seals spent in the marine protected area. Nevertheless, the majority of the harbor seals (93%) returned to Glacier Bay the following breeding season (May-June). Results demonstrate the importance of better understanding the threats that a highly moblie species may interact with outside the marine protected area of Glacier Bay.