Hangar 9, Brooks Air Force Base
By Aviation: Sand Dunes to Sonic Booms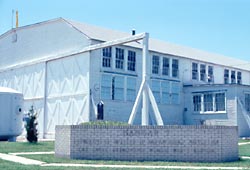 Brooks Field, in San Antonio, Texas, was one of a number of U.S. Army airfields established during World War I to train Army pilots. Construction began at the site in December 1917, which was officially established as Brooks Field in February 1918. In addition to providing primary training for flying cadets, Brooks also trained flying officers as instructors in the Gosport Method of flying, a system developed in England to improve the high mortality rate of fliers. Hangar 9 is the only surviving building of more than 60 constructed here during World War I. Many renowned airmen graduated from the Primary Flying School at Brooks Field during the 1920s, including Generals Nathan F. Twining, fourth chief of staff of the Air Force, 1953 to 1957, and first Air Force officer to be chairman of the Joint Chiefs of Staff; Curtis E. LeMay, chief of staff of the Air Force, 1961 to 1965; and Colonel Charles A. Lindbergh, who made the first solo nonstop transatlantic flight, New York to Paris, in 1927. Rapid demobilization followed World War I, and most of the Army's wartime airfields were abandoned. From 1919 until 1922, Brooks Field was the site of an Army Balloon and Airship School. In 1922, the Army Air Service consolidated primary flying training at Brooks Field, which continued until 1931 when all primary training was transferred to Randolph Field, north of San Antonio. Randolph was an entirely new Air Corps station, conceived and designed as a model airfield for flying training. It also became the headquarters location of the Air Corps Training Center.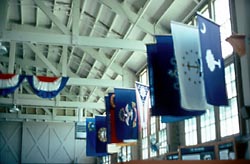 Hangar 9 was hastily constructed in December 1917 and January 1918 to house the Curtiss JN-4 airplane, the "Jenny," which became the basic training plane for thousands of American pilots during World War I. The hangar was one of 16 constructed at Brooks and is recognized as the oldest existing wooden airplane hangar on a U. S. Air Force installation. A brick hangar at Langley Air Force Base, Virginia, was also completed in 1918. Hangar 9 was considered temporary construction when it was built, but its solid wood frame construction insured its longevity. It has a bolted wood truss roof in a modified gambrel form, with large sliding wooden doors at the ends that slide open to the full width of the building by means of exterior door carriers. The side walls are framed with stacked double sash windows with exterior braces or buttresses.

In the summer of 1926, the School of Aviation Medicine relocated from Mitchel Field, New York, to Brooks Field. The school trained medical personnel in the specialized field of aviation medicine, and also conducted research to improve physical and technological problems experienced by fliers. The School of Aviation Medicine also transferred to Randolph Filed in 1931, but returned to Brooks when a new expanded school opened in August 1959. In October 1959, Brooks became the headquarters for the Aerospace Medical Center, a single organization to address all fields of science related to aerospace medicine. It combined aerospace medical research, education, training, and a clinical facility at one location.
Hangar 9 was restored in 1969. It formerly housed the U.S. Air Force Museum of Aerospace Medicine, an extensive collection of photographs and equipment related to aviation and aerospace medicine, as well as information on the early history of Brooks Field. A base closure in 2011 also closed the museum; however, there is potential to re-open the museum as a part of a new community designed on the grounds of the former Air Force Base.  
Brooks Air Force Base closed in 2011 under Base Realignment and Closure Commission (BRAC) procedures.  The site of the former base is now being redeveloped by the Brooks Development Authority.  Hangar 9 is no longer open to the public.
Last updated: August 22, 2017