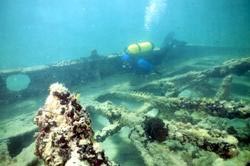 The Half Moon was designed and built by Dr. Maz Oertz in Kiel, Germany in 1908. It was a racing yacht, made of chrome-nickel steels, for Bertha Krupp. The yacht was a wedding present for her husband, Count Gustav von Bohlen und Halbach. It was originally named the Germania and participated in the prestigious regattas at Cowes, England and Kiel, Germany. The vessel was seized as a prize of war by the British in 1914 in Southhampton, England. The ship's captain brought it into port without knowing war had been declared.
The vessel sat and deteriorated in port until 1917 when it was auctioned off to Mr. H. Hannevig for 10,000 pounds. Mr. Hannevig renamed the vessel the Exen and sailed it across the Atlantic. When Hannevig went bankrupt three years later, the vessel was sold again and renamed the Half Moon. Gordan Woodbury, the former Assistant Secretary of the Navy, purchased the vessel and refurbished it. It was badly damaged in 1922, but was repaired and sold to Charles Vail. Vail used the vessel as a floating saloon and restraurant during Prohibition. In 1926, the yacht sank in the Miami River, but was raised soon after. In 1928, Captain Ernest Smiley bought Half Moon and used it as a fishing barge until it wrecked during a storm in 1930. It was discovered in 1987 and identified in 1990. The vessel is 155 feet long by 40 feet wide and rests on its port side. Although the starboard side was struck by another boat and is damaged at the amidships, it is in good condition. There are very few artifacts associated with the wreck as it was used as a fishing platform. It was designated as Florida's seventh Underwater Archaeological Preserve.
The Half Moon is located on a shoal off of Key Biscayne near Miami, resting in eight-ten ft. of water, three-four ft. below the surface. The shipwreck is located within a Florida Underwater Archaeological Preserve, and a laminated underwater guide is available from local dive shops. The preserve is open to the public year round, free of charge.
Florida's Shipwrecks: 300 Years of Maritime History features a Teaching with Historic Places online lesson plan, The Spanish Treasure Fleets of 1715 and 1733: Disasters Strike at Sea. This lesson plan has been produced by the National Park Service's Teaching with Historic Places program, which offers a series of online classroom-ready lesson plans on registered historic places. To learn more, visit the Teaching with Historic Places home page.