Article
Missouri: George Washington Carver National Monument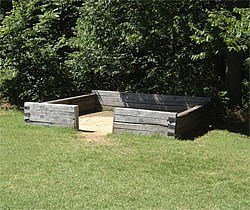 "How far you go in life depends on your being tender with the young, compassionate with the aged, sympathetic with the striving, and tolerant of the weak and the strong. Because someday in life you will have been all of these."- George Washington Carver
George Washington Carver was one of the most prominent African American educators, innovators, scientists, and humanitarians of the late 19th and early 20th centuries. Over the course of his lifetime, Carver rose from slavery to become a renowned educator and research scientist. For over 40 years, he worked endlessly to find practical alternatives to improve the agricultural practices and thus the economic status of African Americans. George Washington Carver National Monument preserves Carver's boyhood home and tells the stories of the place that most significantly shaped the personality and interests of this man who played an important role in the social and agricultural history of the United States. The Monument was both the nation's first memorial to the achievement of an African American and the first such honor to an individual other than a president.
Around 1864, George Washington Carver was born a slave on the Moses and Susan Carver farm in Diamond, Missouri. At the site today, visitors can see an outline of the exact place of Carver's birth. Moses and Susan Carver allegedly opposed slavery, but they acquired slaves because they needed help to work the land. Soon after his birth, Carver and his mother Mary got caught up in the turmoil of the last days of the Civil War and were kidnapped by outlaws and taken to Arkansas. Eventually, George was returned to the Carvers, but his mother was never seen again. When George returned to the farm, he had terrible whooping cough. Moses and Susan Carver relieved him of many of his daily chores and responsibilities on the farm, because he was an orphan with deteriorating health.
Freed from his chores, Carver had ample time to explore the farm and neighboring woods. His interest in the natural world blossomed, and he began to collect flowers and other specimens. Ailing flowers thrived under his care, which prompted many neighbors to bring their sickly plants to him. His abilities with plants eventually earned Carver the nickname "The Plant Doctor" in his community. While living on the Moses and Susan Carver farm, George Washington Carver learned to appreciate nature and self-sufficiency. About 1875, at the age of 10 or 11, Carver left the farm to further pursue his interests.
The values and interests in the natural world Carver developed during his early years on the Moses and Susan Carver farm profoundly influenced the rest of his life. Today, the "Carver Trail" preserves the historic setting of Carver's boyhood years. Visitors to the Monument can follow the trail to enjoy some of the same sites, nature, and sounds that Carver experienced while exploring these woods as a boy.
Carver left the Moses and Susan Carver farm because he longed for an education and to understand nature's mysteries seeking answers on his own and eventually attempting to enroll in school. Initially he could not get into school because of his race, so he tried his hand at homesteading in Kansas instead. Finally, Simpson College in Iowa accepted Carver as an art major in 1890; he was the only African American student at the school. Within a year, Carver's desire "to be the greatest good to the greatest number of my people," prompted him to switch schools and majors. Carver believed that he could be of great service to his people by enhancing his agricultural skills. In 1891, Carver became the first African American to enroll in Iowa State Agricultural College. He earned his Bachelor of Agriculture by 1894 and a Master of Agriculture in 1896.
In 1896, Booker T. Washington asked Carver to head the Agriculture Department at Tuskegee Institute in Alabama. Appointment to this position fit perfectly with Carver's desire to help, positively influence, and teach many people. Carver's dedication to hard work, discipline, and belief in one's self to succeed in anything, were ideals echoed at Tuskegee Institute. Carver taught at Tuskegee for 47 years, making many discoveries during his time there.
While at Tuskegee, Carver committed himself to increasing African American farmers' economic independences by continually researching different farming methods and Southern crops. Carver discovered more than 100 uses for the sweet potato and over 300 uses for the peanut. He found ways to transform peanuts into products such as ink, paper, soap, glue, dyes, massage oil, milk, cosmetics, and more. These and other products he invented from different crops contributed to African American farmers' economic improvement by offering them alternative crops to cotton. Crops like soybeans and peanuts, as well as Carvers methods of soil enrichment, natural fertilizer use, and crop rotation were beneficial for the farmers and the farm land. By providing farmers with information on crops, cultivation methods, and recipes for using these crops in meals and other purposes, Carver taught valuable lessons about self-sufficiency and conservation.

At Tuskegee, Carver created a "movable school." Named for Morris K. Jesup, the financial backer of the project, The Jesup Wagon brought agricultural information to many rural farmers who could not make it to the Tuskegee campus to gain such information. The Jesup Wagon had many forms: first as a horse-drawn vehicle and then as a motorized truck, it carried agricultural information to rural farmers, county fairs, and other community gatherings. Through this extension program, Carver's concepts and instructions could reach, positively influence, and improve the lives of the greatest number of people.
At George Washington Carver National Monument, visitors can gain an understanding of the childhood, life, and career of this highly influential African American educator, researcher, and agriculturalist; visit the Carver Discovery Center; and explore the place that significantly influenced the course of Carver's life. The Monument strives to capture the atmosphere in which Carver began his earliest scientific observations. Be sure to follow the "Carver Trail," a one mile, self-guided loop trail that passes woodlands, streams, tall grass prairies, the Boy Carver statue, Williams Pond, the 1881 Moses Carver house, and the graves of Moses and Susan Carver.

George Washington Carver National Monument, a unit of the National Park System, is located at Carver Rd. in Diamond, MO. Click here for the National Register of Historic Places file: text and photos. The park is open daily from 9:00am to 5:00pm, except on Thanksgiving, Christmas, and New Year's Day. For more information, visit the National Park Service George Washington Carver National Monument website or call 417-325-4151.

George Washington Carver National Monument has been documented by the National Park Service's Historic American Buildings Survey. The Monument is also featured in the National Park Service's Museum Management Program online exhibit, "Legends of Tuskegee."
Last updated: August 23, 2017