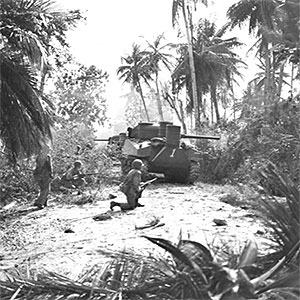 Excerpts from "LIBERATION: Marines in the Recapture of Guam" by Cyril J. O'Brien Marines in World War II Commemorative Series
War in the Pacific National Historical Park is located on the tropical island of Guam, approximately 13 degrees north of the equator and about 3,300 miles southwest of Hawaii. On Guam there is an embracing "hafa adai" attitude that welcomes visitors and makes the island a friendly travel destination and a unique place to live in the United States.
While Guam is only 212 square miles, the island is rich in history. Only hours after Pearl Harbor was attacked, the Japanese began aerial bombings on Guam. After two days of strafing, the Japanese came ashore and hours later the naval governor surrendered the American territory. The island remained under Japanese control for 31 months until July 21, 1944 when the United States returned and liberated the island. Many lives were lost and the suffering was great for all those involved in the battles on Guam and throughout the Pacific theater. In order to remember the United States and Guam's involvement in World War II, War in the Pacific was established in 1978 to commemorate the bravery and sacrifice of those participating in the campaigns of the Pacific Theater of World War II and to conserve and interpret outstanding natural, scenic, and historic values and objects of the island of Guam.
While the park is most noted for its historical resources, the warm climate, sandy beaches, and turquoise waters beckon visitors and residents to discover and rediscover the island's history, environment, and recreational opportunities.