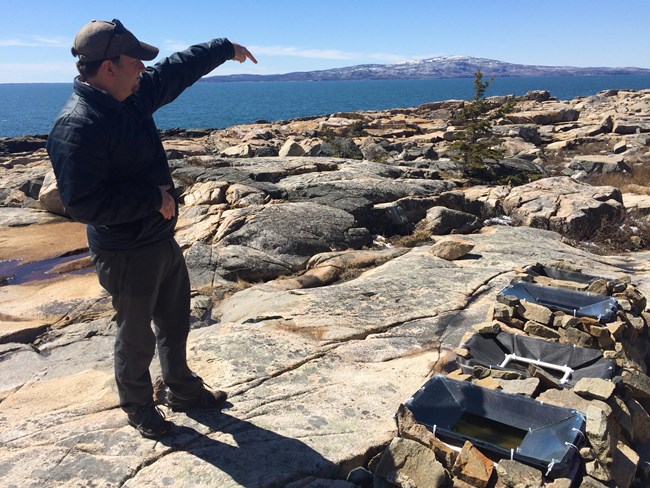 The Second Century Stewardship initiative seeks to advance the next century of science and science engagement in the national parks. The initiative, a partnership of the National Park Service, National Park Foundation, and Schoodic Institute at Acadia National Park, began in 2016 in Acadia with support from the David Evans Shaw Family Foundation and aims to grow a network of Second Century Stewardship parks and partners.
The National Park Service (NPS) has a long history of supporting science and has increased investments in science over time. Science also played a role in the founding of many early parks. Science is necessary to achieve the agency's mission over its second century—a time of rapid change that brings many challenges for protecting park resources and engaging the public. NPS is taking a number of actions to pursue these goals, including a new community of practice for science communication and a steering committee for citizen science.
The goals of Second Century Stewardship (SCS) are:
Advance conservation science by strategically recruiting and supporting a new generation of scientists to lead transformational research in national parks.
Enhance science communication to inspire and inform stewardship of our natural and cultural heritage.
Leverage park science to enhance learning and engagement for students, educators, and the broader public.
Key components include research fellowships, science communication and engagement training, partnerships with educators, and workshops to develop solutions to challenges facing national parks. To date, SCS has awarded nine fellowships to early-career scientists. "SCS Fellows" work directly with park staff and local educators to ensure their research is relevant to park challenges. Communications training ensures that findings are shared in useful ways. Through their research and outreach, fellows address major challenges for conservation, and the second century of science and stewardship in national parks broadly. For example, SCS partners and fellows are scheduled to lead workshops for researchers on improving communication and inclusion, incorporating citizen science into research projects, and how to work with citizen science data at the annual meeting of the Ecological Society of America in August.
SCS is coordinated by Schoodic Institute, Acadia National Park's primary partner in science and education. The institute's campus in Winter Harbor, Maine, a former Navy base, is the largest of 18 NPS Research Learning Centers.
Since 2016, SCS has helped to bring important research to Acadia National Park that is informing management decisions. Inaugural fellow Abbey Paulson's environmental DNA study evaluated the effectiveness of stream connectivity restoration projects. Jenny Smetzer is identifying climate refugia across the park's diverse landscape. Allison Gardner is testing techniques for managing tick populations. Alessio Moretelliti's Fellow communications have reached an estimated 50,000 people and 1,000 students. Highly satisfied with the program, Acadia National Park staff and the project partners are taking steps to implement it permanently and expand across the National Park system.
"The goal of the SCS initiative is not to replace existing practices, but to build a community of people to strengthen practices through the park system. SCS partners can provide assistance and technical support to other parks interested in taking a similar approach to Acadia National Park," said SCS Institute President and CEO Don Kent.
For more information about Schoodic, please contact
Abe Miller-Rushing
, Acadia National Park Science Coordinator or
Nick Fisichelli
, Chief of Staff SCS Institute at Acadia National Park.