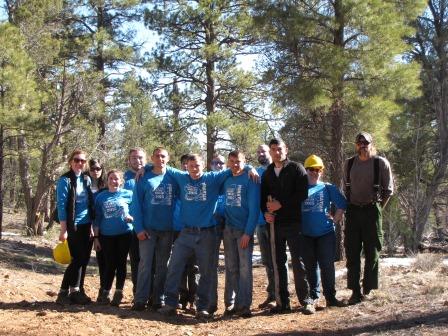 While many college students lounged on beaches for spring break, 82 students from eight colleges and universities spent their time supporting Grand Canyon National Park's wildland fire crew as part of an Alternative Spring Break (ASB) program.
These students, who hailed from Longwood University; Moravian College; University of Virginia; Northern Arizona University; Georgia College and University; Chapman University; University of California, Los Angeles; and Williams College, dragged downed trees and debris and helped prepare archaeological sites for future prescribed burns, pressure tested and rolled about two miles of fire hose, and started a new project to monitor pile burning and mechanical thinning.
Beyond the hard work of dragging downed debris, the groups toured the park's museum collections and participated in education sessions each day to learn more about wildland fire, the National Park Service, and to see the bigger picture of their service. They also met with Grand Canyon National Park's deputy superintendent. These opportunities provided interested students the inspiration and tools to start a career with the National Park Service.