By Adam Messmer, Andrew Olsen, Katie Palof, Joseph Stratman (all Alaska Department of Fish & Game)
Is the Tanner crab population healthy in Glacier Bay?
Dates:
Annually in October since 1997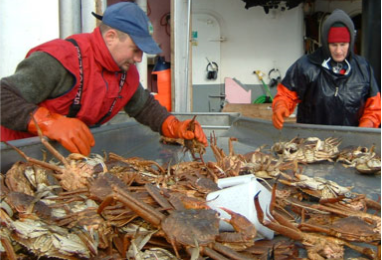 Introduction
When the long and contentious issue of commercial fishing in Glacier Bay National Park & Preserve was finally brought to an end in 1999, winter fishing for Tanner crab in some park waters was one of three types of fishing that were allowed to continue for holders of lifetime access permits. When these permit holders retire, commercial fishing will cease in Glacier Bay proper. Meanwhile, Glacier Bay supplies 8-9% of the catch of Tanner crab in Southeast Alaska. The Alaska Department of Fish & Game conducts annual Tanner crab surveys in several areas of Southeast Alaska, including Glacier Bay.
Data collected in the survey is used to assess the status of commercially important Tanner crab stocks in Southeast Alaska by survey location and provides information that is used as a guideline for setting harvest levels. The long-term goal is to provide information on the spatial distribution and long-term health of the stocks. Information produced by the survey to achieve these goals includes catch per unit effort (CPUE), stock composition, female maturity and clutch fullness, male length/weight relationship, and visually detected disease and limb loss.
Catch per unit effort (CPUE) - also called catch rate - is an indirect measure of abundance and is frequently the single most useful index for long-term monitoring of a fishery. Declines in CPUE may signal over-exploitation, while a stable CPUE indicates that a fish stock is being harvested sustainably.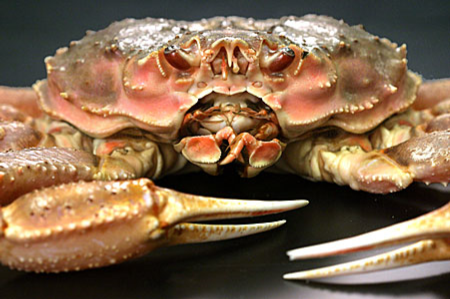 Methods
Southeast Tanner crab stocks are assessed by using a stratified random sampling design. Six important historical fishing locations in Southeast Alaska are surveyed annually at the smallest tidal range in October of each year. The surveys are typically conducted aboard the 110' R/V Medeia. Tanner crabs are caught with conical, top-loading commercial pots with smaller mesh than commercial pots to retain smaller crabs. The pots are pulled after a soak time of 15-20 hours; the crabs are counted, sexed, and measured; reproductive and health information is recorded.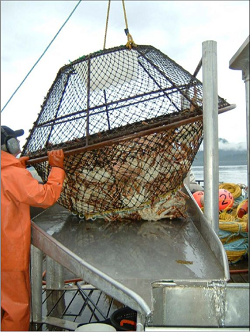 Findings
Glacier Bay Tanner crab are considered to be of moderate health, meaning that stock health is improving but is still at low levels compared to long-term baselines (1997-2010). During the 2012 survey researchers saw an increasing number of pre-recruit* males, which suggests the population may be rebounding. Survey results from 2013 are still being analyzed.
Glacier Bay provided 9.2% on average of the commercial harvest over baseline years, and 8.3% in the 2011/2012 fishery.
*"Recruit" in fishery terms means young animals that have matured enough to be of legal catch size. Pre-recruit are younger, sub-legal size animals.
Learn More
Visit the Alaska Department of Fish & Game website.