National Park Getaway: Kennesaw Mountain National Battlefield Park
By Amanda Corman, Park Ranger, Kennesaw Mountain National Battlefield Park
Nestled between the historic cities of Kennesaw and Marietta, Georgia, Kennesaw Mountain National Battlefield Park preserves nearly 3,000 acres of a strategic battle site of the American Civil War. Appealing to history enthusiasts, nature lovers, and hikers alike, the largest continuous green space in metro Atlanta provides more than 20 miles of trails.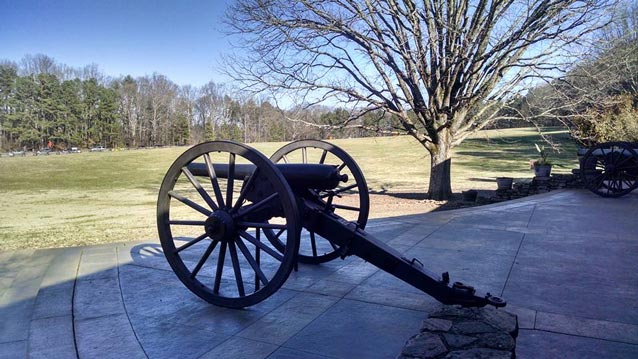 As you sit on the mountain top and enjoy the tranquil scenery, you might wonder what previous visitors to Kennesaw Mountain may have seen or experienced. A rustle in the wood line interrupts your reverie and leaves you curious: Was this sound one that some long past visitor might have heard? When you journey through these woods you follow in the footsteps of many who lived, fought, and died on this land.
If you start your visit by watching the award-winning film "Kennesaw: One Last Mountain" and exploring the museum in the visitor center you'll gain invaluable insights into the lives of the soldiers and civilians who were affected by the horrors of war. Once you leave the visitor center you might make the trek, by foot or by car, to the crest of Big Kennesaw. At the summit you're greeted by Confederate gun emplacements guarding the panoramic view of Atlanta and the surrounding Georgia piedmont region.

Your next steps should lead to the 24-gun battery. Upon entering the woods your mind might step back in time, back to the Civil War era as you view the Federal gun emplacements that face Little Kennesaw and Pigeon Hill. The hike up Pigeon Hill, a popular next destination, leads to the Confederate earthworks that were instrumental in overcoming a major attack by Union General William Tecumseh Sherman.
The journey continues as you reach the location of Cheatham Hill and the Illinois Monument. You can walk the Confederate battle line to the monument or take the Union approach by hiking the Union Assault Trail. Each provides a different perspective on the deadly attacks of June 27, 1864. The now-quiet battlefield offers an oasis for nature and history lovers alike.

For the final leg of your journey at Kennesaw Mountain, head to Kolb's Farm. The park's last remaining Civil War era structure adds a personal touch to the battlefield. This 1830s home, with a family cemetery adjacent to the house, is the surviving witness to the battle.

Whether you walk or drive through this battlefield park, you leave behind the hustle and bustle of the surrounding metro Atlanta area. Discover the natural beauty and rich history of Kennesaw Mountain National Battlefield Park; you'll be able to forget the stress of the day and experience what others before us have preserved for future generations.
Last updated: March 22, 2016