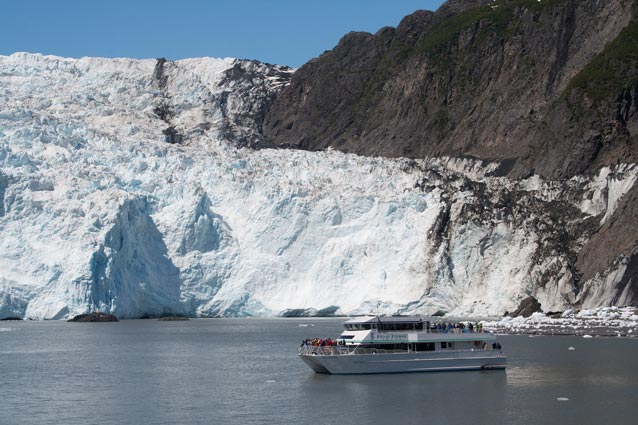 If you were given a cube of ice and told to preserve it, what would you do? You are not allowed to put it in a freezer. You have no artificial means to keep it from melting.

A good idea would be to head north to Alaska, where you could tuck that ice cube into a glacier crevasse. A likely spot would be Kenai Fjords National Park, where more than half of the park's land mass is covered in glacier ice.

It's an easy place to get to. From Anchorage it's a two-and-a-half hour drive to the town of Seward, the gateway to the park.

A hike to Exit Glacier and a trip up to the Harding Icefield would provide just the right spot to stow your melting ice. Maybe you could compare notes with the Park Superintendent Rebecca Lasell as you try figure out how to keep that ice from disappearing. After all, that's part of her mission: "to maintain unimpaired, the scenic and environmental integrity of the Harding Icefield [and] its outflowing glaciers."
You've only got an ice cube to worry about. Just think of Superintendent Lasell. She's responsible for a national park that contains the Harding Icefield and all of its glaciers—more than 800 square miles of ice!

That ice is what makes Kenai Fjords National Park so special. Each summer the chance to see a glacier—a remnant of the last Ice Age—draws hundreds of thousands of visitors who seek an adventure of a lifetime.