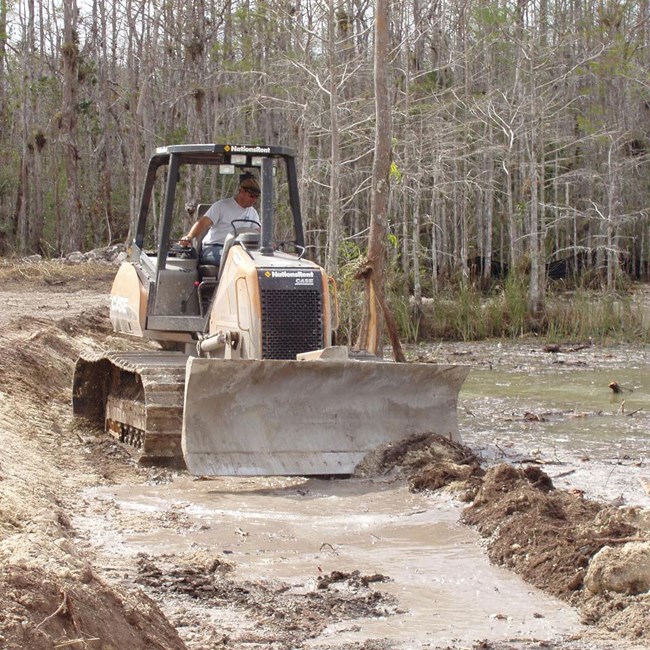 Disturbed land restoration (DLR) is the process of restoring lands where the natural conditions and processes have been impacted by development (e.g. facilities, roads, mines, dams, abandoned campgrounds) and/or by agricultural practices (e.g. farming, grazing, timber harvest, abandoned irrigation ditches) to the unimpaired natural conditions.

Lands disturbed by human activity often cause unwanted and long-lasting problems that affect other resources. Many of these disturbances obliterate soil profiles, exacerbate the invasion of exotic plants, result in contamination of water and soil, and/or cause erosion and sedimentation. These damages, in turn, frequently impair the quality of habitats, disrupt ecosystem functions, and cause problems for parks managing areas as wildlands.

Restoration is fundamentally a multidisciplinary pursuit that involves the understanding of the biological and physical systems and their interactions. The restoration of a sustainable ecological system often depends on the successful restoration of the physical conditions and processes with which the biological community evolved. Likewise, the ability of a system to sustain physical conditions and processes often depends on the condition and sustainability of the biological environment. In this context, disturbed lands restoration is an extensive thematic component of what is broadly known as ecological restoration. The Society for Ecological Restoration defines ecological restoration as "the process of assisting the recovery and management of ecological integrity. Ecological integrity includes a critical range of variability in biodiversity, ecological processes and structures, regional and historical context, and sustainable cultural practices."