Gen. William "Billy" Mitchell House
By Aviation: From Sand Dunes to Sonic Booms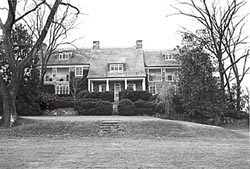 From 1926 until his death in 1936, General William "Billy" Mitchell, a dominant figure in American military aviation between the two world wars, resided at Boxwood, an approximately 120-acre country estate in Middleburg, Virginia. In 1898, when war broke out with Spain, 18-year-old Billy Mitchell left college to enlist as a private in a Wisconsin volunteer regiment and within three weeks he became a 2nd Lieutenant in a Florida-based U.S. Army Signal Corps. In 1901 he was appointed 1st Lieutenant in the Signal Corps and at age 24 he became the youngest captain in the Army. In 1913 he became the youngest officer ever appointed to the Army general staff. While serving as commander of the Signal Company at Fort Leavenworth, Mitchell developed an interest in aviation. During World War I Billy Mitchell played a leading role in launching the World War I American aircraft program. By 1917 Mitchell was promoted to full colonel and subsequently to commander of the Air Service. The first U.S.-trained air squadrons arrived at the front in the spring 1918. Mitchell distinguished himself as the first American Army aviator to cross enemy lines and the first to be decorated. Upon his return to the United States in 1919, Billy Mitchell was named Assistant Chief of the Air Service. Amidst great opposition Mitchell set out to overhaul the national defense structure while equipping the Air Service with new bombers and dirigibles and initiating development of the first airways system in the United States.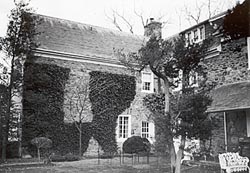 Mitchell realized by 1921 that he needed to employ different techniques to convince America of the necessity of developing air power. He began giving speeches, contributing to newspaper and magazine articles, testifying in congressional and executive hearings, publicizing his and his airmen's flying stunt's and emphasizing the contributions air power could make to the defense of the United States. In 1921, Mitchell gained worldwide attention when he was granted the opportunity to demonstrate that air power would be a major arm of warfare. His bombers sank the captured ex-German battleshipOstfriesland within 21 minutes, then repeated the act on the obsolete American battleship Alabama. Seventeen years before the Japanese attack on the U.S. Naval Base at Pearl Harbor, Mitchell concluded that war with Japan was inevitable and the Pacific Islands would be crucial Japanese objectives because of their strategic value as air bases. He pushed for large-scale reinforcement of the Air Service in the Hawaiian Islands, but met much resistance. Mitchell continued to campaign for air power, writing his book Winged Defense and publishing articles, which he had been ordered to submit for War Department clearance before publication. The loss of a naval seaplane on a nonstop flight from San Francisco to Hawaii on September 1, 1925, and the destruction of the dirigible USSShenandoah two days later, prompted Mitchell to published an article September 5, 1925, in which he blamed these aviation tragedies and others on the Navy and War Departments. Two weeks later he was court-martialed and sentenced to a five-year suspension from duty without pay. Mitchell resigned from the Army on February 1, 1926, but he continued to wage his battle for air power. He died on February 17, 1936, shortly before his ideas on air power were vindicated. He was posthumously restored to the service in 1942 with the rank of major general.
The Gen. William "Billy" Mitchell House, also known as Boxwood Farm, a National Historic Landmark, is located on Va. Rte. 626 south of Middleburg, Virginia. It is a private residence and is not open to the public.

Visit the National Park Service Travel American Aviation to learn more about Aviation related Historic Sites.
Last updated: April 9, 2019