Gateway Lights the Way for Pollinators!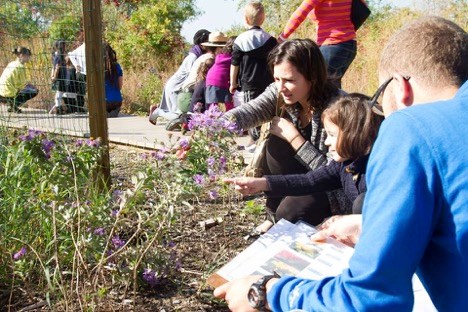 Gateway National Recreation Area hummed with excitement during National Pollinator Week. On June 22, Education Specialist Dan Meharg joined our National Wildlife Federation (NWF) partners and Daymond John, beekeeper and host of the TV show Shark Tank to light the iconic Empire State Building in yellow and black stripes.
The lighting ceremony celebrated three years of "Growing a Wild NYC," a year-long classroom and field-based program that teaches public school students in grades K-12 about pollinators and why their habitats are so important. Over the course of the school year, students grow and plant native plant species to restore habitat in Gateway, in their schoolyard gardens and at local parks.
The Wild NYC program was launched in the 2014-15 school year as a collaboration between the National Park Service (NPS), the National Wildlife Federation, and the New York City Department of Education to provide K-12 students in urban spaces the opportunity to restore pollinator habitats while learning about the causes of their decline. The program originally targeted schools in Brooklyn and Queens, in neighborhoods that had been hardest hit by Superstorm Sandy.
Over the course of a full academic year, students learn basic indoor and outdoor gardening techniques and use their newfound knowledge to grow the plant species that pollinators need to survive. The students germinate their own native or noninvasive plants in the classroom, then plant and observe them in their schools and local parks. They learn about the bees and butterflies that benefit from the interconnected wildlife corridors students have planted. This version of wildlife conservation is very viable in urban spaces and has become an integral part of NPS's Urban Agenda.
After the lighting ceremony, Gateway and NWF educators buzzed over to Brooklyn to visit Public School 29, one of 14 participating Wild NYC classes, where the school's second graders—dressed in bumble-bee-apparel—showed off the fruits of their school garden to their guests, including Brooklyn Borough President Eric Adams. Impressed with students' knowledge and passion for their garden, Adams signed the NWF Monarch Pledge and committed his support to help put a pollinator garden in every school in Brooklyn.
Since its inception in 2014-15, the Wild NYC program has served about 2000 students and over 30 teachers from 17 Title I schools, and has also included dozens of intergenerational family members and community volunteers.
Last updated: January 11, 2018