Gateway Arch National Park and Lewis and Clark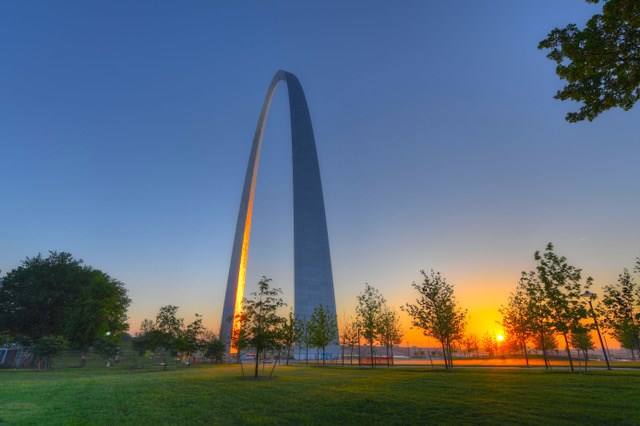 While the Corps of Discovery didn't officially begin from St. Louis, the young city was vital to Captains Lewis and Clark – here they obtained many of their final goods and supplies, and received assistance from those who had already traveled up the river as far as the Mandan villages in today's North Dakota. The city was, however, the celebrated return site of the Expedition in September 1806.
Towering over the river and the city skyline is the Arch, part of Gateway Arch National Park, which is 630 feet tall and 630 feet from leg to leg at the ground level. Created as a monument to the Westward Expansion of the U.S. during the 19th century, construction began in February 1963 and completed 32 months later in October 1965. Re-opening this July, below the Arch, will be a completely renovated museum and visitor center.
The entire park, just a few minutes' walk from downtown St. Louis, in the same area where Lewis and Clark met with local businessmen, traders and trappers who were familiar with the upper Missouri River, is a memorial to Thomas Jefferson's role in opening the West, to the pioneers who helped shape its history, and to Dred Scott who sued for his freedom in the nearby Old Courthouse.
Gateway Arch National Park
is a
High Potential Historic Site
on the
Lewis and Clark National Historic Trail
.
Be sure to check the Gateway Arch National Park website:
www.nps.gov/jeff
.
Last updated: June 1, 2018