Isle of Wight County: Fort Boykin Archaeological Site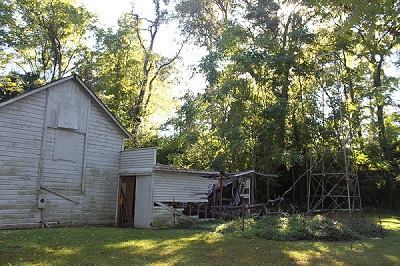 The Fort Boykin Archaeological site is a historic site in Isle of Wight County along the James River. It is believed that the site dates to 1623 when colonists were ordered to build a fort to protect them from attacking Native Americans or Spanish marauders. It was originally called the Castle or the Fort at Warroskoyack. It would have been triangular in shape and surrounded by a ditch. The earthworks would have been topped with palisade walls. The fort was eventually abandoned after threats of attack diminished.
According to the journal of the ship Young Prince, the fort was active during Bacon's Rebellion. During the American Revolution the fort was refortified and named in honor of Francis Boykin, an officer in the Continental Army. What little was left of the Castle was enlarged by new ramparts and had gun emplacements added. According to military records, there were no confrontations with enemies at the fort or in the vicinity. After the British surrendered in 1781, the fort was abandoned again.  During the War of 1812, the fort was rebuilt into an irregular seven-pointed star. There was only one attempt by the British at Fort Boykin. They were defeated by local militia under the command of Capt. David Dick and Capt. Charles Warren. The fort was once again rebuilt during the Civil War. Between June 1861 and May 1862 the Confederate Army used the fort as part of their defensive system.  On May 8, 1862 three Union gunboats moved within firing range of the fort. The ironclad USS Galena had guns with a longer firing range than those of the fort. It quickly overwhelmed the Confederates, who abandoned the fort.
Fort Boykin is listed on the National Register of Historic Places, the Virginia Landmarks Register, the Virginia Civil War Trails, Captain John Smith's Trail, and the Star-Spangled Banner Geotrail. The Fort Boykin Historic Park is located at 7410 Fort Boykin Trail. For more information about visiting please call (757) 357- 2291 or visit:  Fort Boykin.
Last updated: August 16, 2017