Frederick and Emma Calhoun at Vancouver Barracks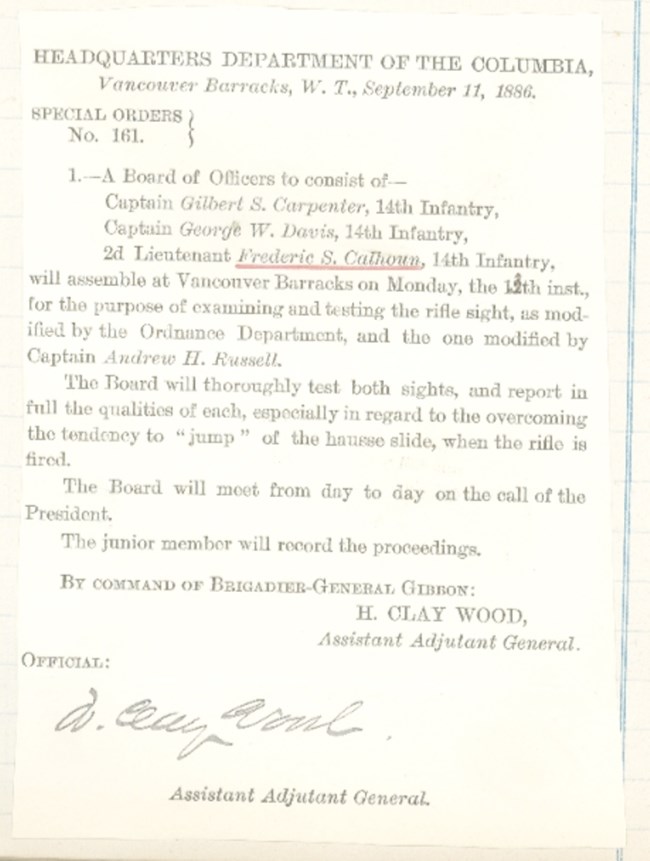 The separate spheres of professional and domestic life at Vancouver Barracks in the latter half of the nineteenth century are vividly recalled in two ledgers kept by Frederick S. Calhoun, First Lieutenant of the 14th Infantry, and his wife, Emma Reed Calhoun. Both ledgers are now part of the Fort Vancouver National Historic Site museum collection.
By the time Frederick Calhoun arrived at Vancouver Barracks in 1884 or 1885, he had already experienced a colorful military career. Throughout the 1870s and 1880s, Calhoun traveled frequently among military bases in Nebraska, Utah, Colorado, and Idaho. During this period, Calhoun was often involved in conflicts between the United States and American Indian tribes. Calhoun's ledger contains references to his involvement in the protection of the Mormon settlers in Corinne, Utah, his participation in the Big Horn and Yellowstone Expedition (also known as the Starvation March of 1876), a pursuit of Sioux warriors in the wake of the Battle of Little Big Horn, and his work with the Red Cloud Indian Agency in Nebraska. Calhoun was a favorite of General George Armstrong Custer, and married Custer's niece, Emma Reed, in 1879.
In Vancouver, one of Calhoun's most notable activities was his service on the base's Post Exchange System Committee, a group that created and reported on the 14th Infantry Regimental Canteen. The military canteen at Vancouver Barracks was the first in the nation and was meant to provide a fully stocked store, cafe, and lounge for the residents of the Barracks. Vancouver's canteen was opened in 1886 and was operated by the Army for its soldiers, unlike the sutler's store of previous decades, which had offered fewer amenities and was operated by civilian contractors.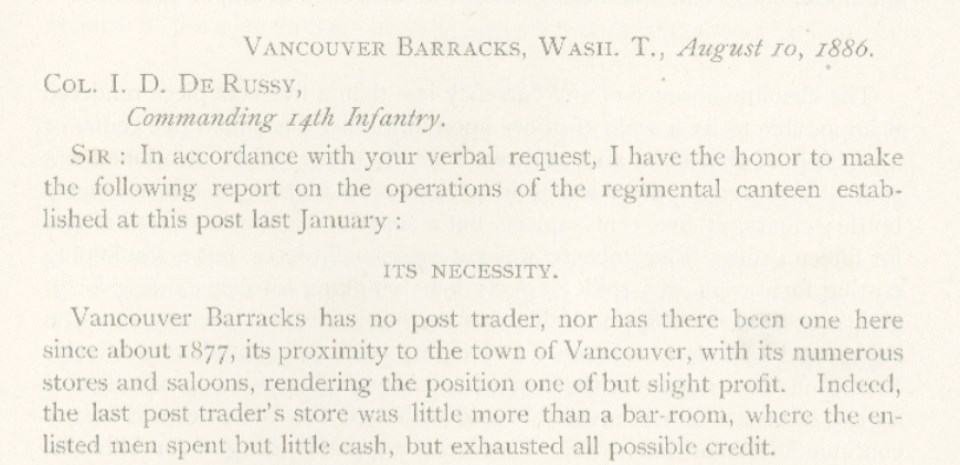 Calhoun's ledger is an "orders" book, in which he transcribed or pasted the assignments and orders he received between 1874 and 1887. Emma Calhoun's ledger is a record of household expenses between 1880 and 1887. After Frederick and Emma were married, the books begin to complement each other in subtle ways.

In November of 1885, Frederick and his company were dispatched from Vancouver to Seattle to quell the Knights of Labor riots that threatened Chinese immigrant workers. At the same time, Emma's account book indicates ten dollars spent on a trip to Seattle (whether this sum was spent by Frederick alone or if Emma accompanied him is unclear). Lieutenant Calhoun returned to Seattle in February 1886, when anti-Chinese sentiment flared again, and this trip is again reflected in Emma's records.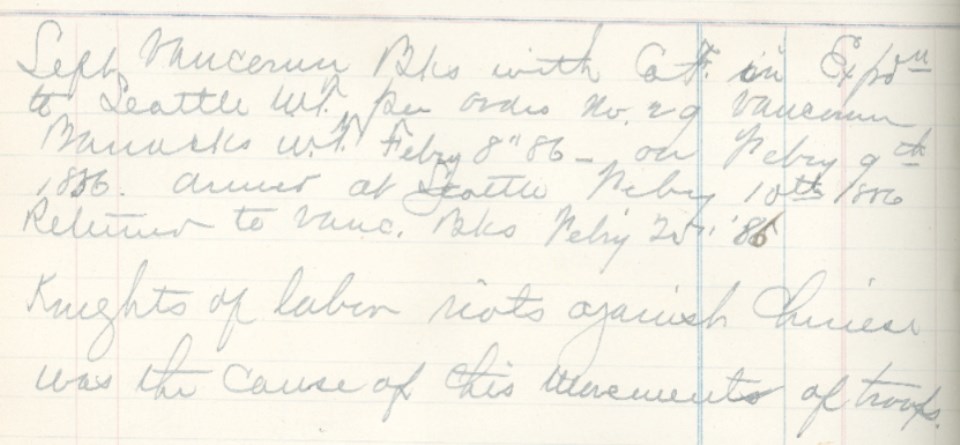 Emma Reed Calhoun's financial records also indicate the kind of life led by an officer and his family at the post. Emma's ledger outlines several shopping trips to Portland, the amounts the Calhouns placed in the donation tray at church, Lt. Calhoun's pay ($140 per month by the time he reached Vancouver), medical bills (frequent visits to optometrists were likely the result of an injury Calhoun received in 1879, when he was hit in the eye with a tree branch while horse riding), club dues and other bills, servants' wages, and dietary habits (including a love of berries and ice cream in the summer).

Emma Calhoun's detailed records illustrate the important role she played in her family. Her ledger shows a meticulous tracking not just of finances, but also of the family's needs from month to month.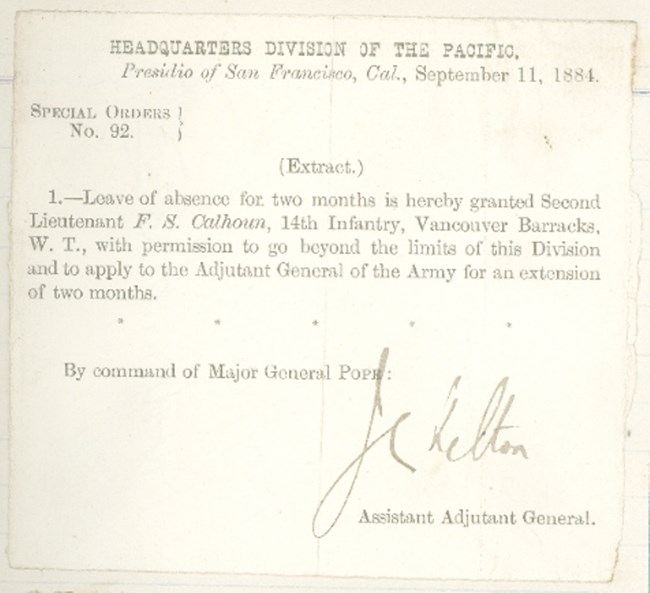 While stationed at Vancouver Barracks, Calhoun was promoted from Second to First Lieutenant, which is reflected both in the ways that Calhoun is referred to in the orders in his ledger, and in the ten dollar increase in pay seen in Emma's ledger.
Shortly after this promotion, in 1888, Calhoun was diagnosed with spinal sclerosis and neuralgia. After a period of attempted recuperation at Vancouver Barracks, he retired in 1890. The Calhouns then relocated to Wellesley, Massachusetts, to be closer to their daughter, Emma May, who was a student at Wellesley College.
Last updated: March 24, 2017