Making of "At Home in High Places"
"This was one of the best experiences of my life." Karin Franzen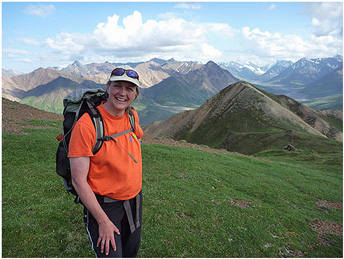 For 10 glorious days in August 2009, a companion and I lived in a small wilderness cabin inside Denali National Park and Preserve as an Artist in Residence. For the first four days my friend Christy Happ stayed with me, and then the remaining time was shared with my husband, Glen Kravitz. We spent our time hiking, drawing, journaling, taking photos, and just hanging out.
The cabin is located about 43 miles inside the park. It sits beside a creek that empties nearby into the east fork of the Toklat River. It was a popular area for bears and we saw grizzlies almost daily. The bluff across the creek was a favorite hang-out for juvenile Golden Eagles. One evening, Christy and I witnessed a pair of grizzly bear cubs playing with a fox out on the river gravel while their mother grubbed for roots. The fox teased the cubs into pursuing it by crouching down and then springing up, circling around, and then crouching down again, over and over.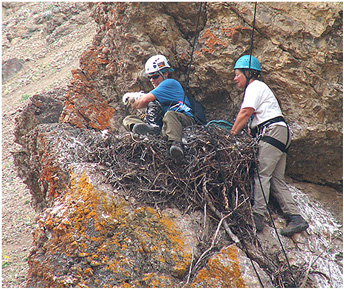 Carol McIntyre of the National Park Service has been conducting research on the Golden Eagles of Denali National Park for 23 years. Before my residency in July, I joined Carol and her research assistant Mark Paulson as they collected data at nest sites as part of a long-term study of population dynamics in the park.
Visiting eagle's nests requires long hikes over rugged terrain with heavily-loaded packs and technical climbing skills, but Carol and Mark obviously love the work. Even more than the effort required, though, I was impressed with how much care and consideration they give to the welfare of the birds.
In this photo, Mark has joined Carol in the nest and is shown carefully transferring a chick to Carol. They estimated this chick to be about six or seven weeks old.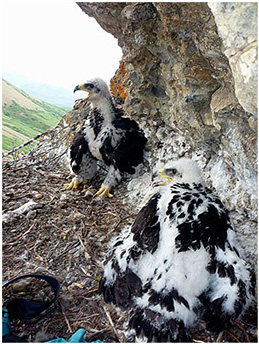 This photo depicts two chicks that occupied this nest. Golden Eagle nests typically measure anywhere from about two to five feet in diameter. Over time the nest accumulates carcasses and some feces, so you can imagine the smell. The remains of snowshoe hare, ground squirrels, willow ptarmigan, and even a newborn Dall sheep indicated what the eaglets had been feeding on. As they get older, the eaglets back up to the edge of the nest and project their waste over the edge.
This was one of the best experiences of my life. I spent a good part of my summer breaking in my hiking boots and getting in shape, which was fun in itself, but then I got to spend three days hiking in Denali with Carol and Mark who educated me about the birds, mammals, wildflowers, and ecology of the park.
From these experiences, I donated this piece of artwork, At Home in High Places. The artwork depicts an adult Golden Eagle and eaglet at a nest site high atop a rock outcropping. Recycled clothing was collaged onto hand-dyed silk organza to build up the image, which was then mounted on a frame with backer board and edged with a walnut finish frame.
This article was originally written in 2009 for Karin Franzen's website, then edited and reproduced for "Milepost 43," a blog for Denali's Artist-in-Residence program edited by Timothy Rains.


Explore Karin Franzen's entry in Denali's Artist-in-Residence Catalog.
Last updated: April 27, 2016