Isle of Wight County: Four Square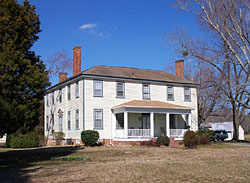 Four Square is a large, unusually complete planation complex in rural Isle of Wight County. The plantation home was constructed for the Woodley family in 1807. The Woodley's were one of the wealthiest in Isle of Wight County. The plantation was built on land the family had owned since the 1600s. In 1693 Andrew Woodley paid 7000 pounds of tobacco to purchased a 640-acre tract on Cranage Swamp from James Baron. Twenty years later, Woodley deeded the property to his son Thomas, a surveyor and navigator.  In the mid 1700s the property passed to John Woodley and then 440 of the original 640 acres passed to his son Andrew. Andrew served as a captain in the Virginia militia, the Sheriff of Isle of Wight County, as Collector of Revenue, and as Presiding Judge of the County Court. Andrew built most of the present complex.
The domestic outbuildings include a cookhouse, dairy smokehouse, and slave cabin. The grounds also include archaeological evidence of other farm builings. The site was listed on the National Register of Historic Places on July 26, 1979 and the Virginia Landmarks Register on April 17, 1979. Today, the Healey family welcome bed and breakfast guests to Four Square.  The site's address is 13357 Four Square Rd. Smithfield, VA 23430. For more information please call: (757) 365-0749.
Last updated: September 14, 2016