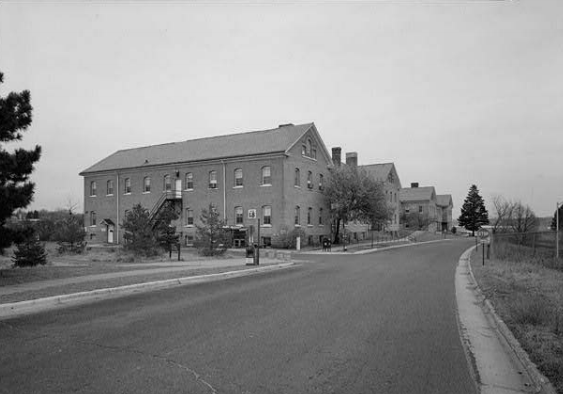 A collection of stately yellow brick buildings, their formality frayed by utilitarian stabilization measures, face a swath of overgrown grasses. Across this former parade ground is a collection of red brick officers' residences designed in a variety of late 19th century styles. They, too, reflect the same challenges of limited funds and underutilization. For the past decade, these and other historic re-sources of Fort Snelling National Historic Landmark's Upper Bluff have faced an uncertain fate as various government agencies, pres-ervation organizations and individuals searched for means of revitalizing the former military grounds.
Yet today, what appears to be abandonment is in fact evidence of a confluence of efforts to finally bring life and vitality back to one of this country's most significant forts. In the past few years, thousands of dollars have been expended on stabilization of 28 buildings, thanks largely in part to the efforts of Hennepin County, in conjunction with the Minnesota Department of Natural Resources (DNR)—the property owner, the State of Minnesota, the National Park Service's Mississippi National River and Recreation Area unit and Midwest Regional Office, the Minnesota State Historic Preser-vation Office, the National Trust for Historic Preservation, the Preservation Alliance of Minnesota, and numerous other interested agencies, organizations, and individuals.
In 2006 --the same year that Fort Snelling was listed on the National Trust for Historic Preservation's "11 Most Endangered Historic Places"-- stabilization efforts on the Upper Bluff began with the financial assistance of a $150,000 Save America's Treasures grant from the National Park Service. This had been secured by Hennepin County, augmented by money from the county and the DNR. Under the guidance of a qualified historical architect, "Sentence to Serve" (STS) crews patched holes in roofs, stabilized failing roof rafters, patched soffits and fascias, repaired downspouts and gutters, protected deteriorated masonry, secured windows, and re-graded around buildings. The STS crews were composed of sentenced, court ordered, non-violent offenders who gained valuable construc-tion training in the process. Hennepin County secured additional Save America's Treasures funding of $300,000 in 2007, and $500,000 in state capital bond funds. The same year, the National Trust for Historic Preservation also awarded the county a Johanna Favrot grant to study the fort's cultural landscape and buildings, and develop design guidelines for new construction.