Fort Pierre Chouteau: Pivotal Outpost on the Upper Missouri River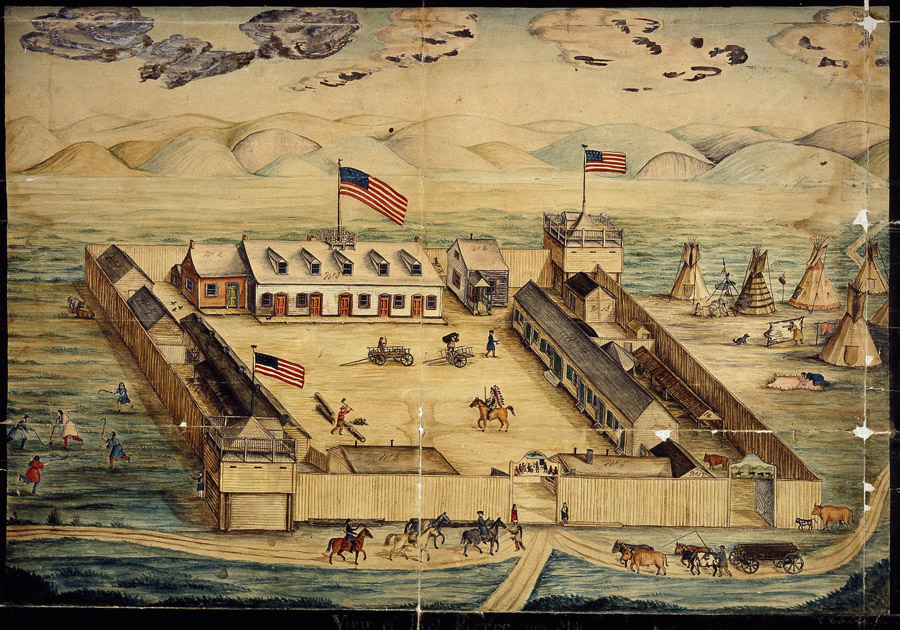 Across the Missouri River from South Dakota's capital city, at the northern outskirts of the town of Fort Pierre, lies the site of Ft. Pierre Chouteau. Declared a National Historic Landmark (NHL) in 1991, here once stood the largest trading post on the upper Missouri and a thriving center of commerce in the vast Lakota Country. Although occupation of the post spanned barely a quarter-century, its role in opening the West to commerce and Euro-American settlement was substantial.
No visible sign of the fortification survives today, but the site contains well-preserved archeological deposits that can inform our understanding of life on the early 19th-century frontier. Investigation of the site can also tell us much about the complex dynamics of culture contact with Native Americans. Accordingly, Ft. Pierre Chouteau is nationally significant not only for its association with the broad historical trends of American expansion, but also for its archeological research potential.
Pierre Chouteau, Jr., belonged to a prominent family of fur traders and businessmen who figured in the founding of St. Louis, Kansas City, and several other western communities. As an agent for John Jacob Astor's American Fur Company, he introduced steamboat service to the upper Missouri in 1831 with his renowned side-wheeler, the
Yellow Stone
.
A year later, Chouteau established the fort that would bear his name to succeed Ft. Tecumseh, which had operated at the nearby Bad River confluence for a decade. Astor was then solidifying his stake in the West, and this locality proved ideal for a brisk trade in pelts and bison hides. Owing to the speed and cargo capacity of paddle steamers, Ft. Pierre Chouteau at its height was able to send more than 17,000 buffalo robes a year to eastern markets.
Intensity of the trade, however, quickly depleted the numbers of bison roaming the Great Plains. Therefore, in the face of diminishing returns, Ft. Pierre Chouteau was sold to the U.S. government in 1855 for conversion to military use at a price of $45,000 (equivalent to about one million in today's dollars). Troops detailed to the post, however, found the aging facilities to be in a woeful state of disrepair.
Within two years of its purchase, this first army installation on the upper Missouri was abandoned and dismantled to augment construction of Ft. Randall located down river. By the turn of the 20th century, visitors to the site could scarcely make out segments of the stockade outline. A few decades later, even those faint traces had vanished from the scene.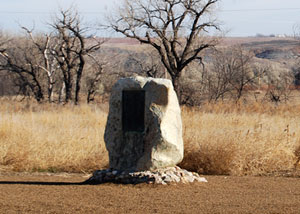 But old Ft. Pierre Chouteau was not forgotten. Deeded over to the state in 1930, a stone marker was placed near its center and care of the site was entrusted to the South Dakota State Historical Society, which today administers it as a state historic site. Continuing archeological investigations have contributed much new information about the fort, and a management plan in 2010 will support appropriate stewardship of the NHL for many years to come. That new planning document should prove to be a crucial source of guidance in the continuing efforts to preserve, protect, and interpret this important cultural resource.
Visited in its prime by such notables as Prince Maximilian, Karl Bodmer, George Catlin, and John James Audubon, the fort's bustling milieu left a profound impression on all who saw this glorious fur trade station firsthand. Current initiatives designed to promote and enhance heritage tourism in South Dakota hold the promise that future visitors to the site will more fully appreciate the significant part that Ft. Pierre Chouteau played in shaping the course of American history.
Explore
Visit the online travel itinerary for Fort Pierre Chouteau at the National Park Service's "Discover Our Shared Heritage" page: http://www.nps.gov/nr/travel/pierre_fortpierre/fort_pierre_chouteau_site.html.

Explore https://www.nps.gov/subjects/heritagetravel/about-us.htm to find more itineraries to other sites listed on the National Register of Historic Places. Since 1995, the National Park Service has been pleased to develop this series of travel itineraries in collaboration with many public and private partners. These itineraries highlight thousands of sites —bringing them to the attention of anyone interested in learning more about American history, architecture, archeology, engineering, and culture, and encouraging people to visit and enjoy these impor-tant and inspiring places.
---
Originally published in "Exceptional Places" Vol. 5, 2010, a newsletter of the Division of Cultural Resources, Midwest Region. Written by Vergil E. Noble.
Last updated: June 26, 2018