Fort McHenry's Volunteers Bring the Home of the Brave to Life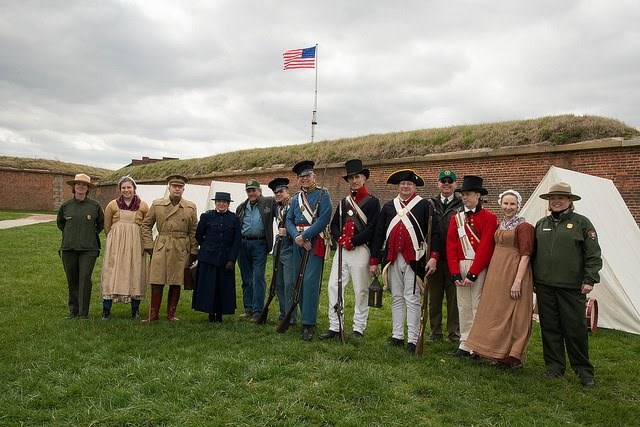 On April 1st as part of a Baltimore's Light City Festival, Fort McHenry NMHS hosted an evening tour of the old Star Fort. By candlelight volunteers guided over 200 visitors through 170 years of history interpreting Fort McHenry's role as the "sentinel of the harbor."

Traveling through a variety of living history stations visitors learned about the lives of sailors in early Baltimore, the role of militia and civilians during the War of 1812, technological advances made at the fort in the use of artillery and new military tactics that would influence the U.S. Army's operations during the Mexican War, the Civil War, and beyond. Volunteers also helped visitors consider the controversial role Fort McHenry played during the Civil War as a Union garrison charged with saving the state of Maryland for the Union by at times violating the civil liberties of many Marylanders. As they guided visitors into the 20th century, volunteers described the ways in which doctors and nurses here at General Hospital No. 2 helped soldiers returning from the Western Front during the Great War, recover, and readjust to civilian life at home. Visitors also learned how the U.S. Coast Guard Training Station at Fort McHenry once more ensured the safety of Baltimore's harbor and maritime industry during World War II.

Best known as the home of the Star-Spangled Banner which flew above throughout Saturday's brisk spring evening, at Fort McHenry volunteers encouraged visitors to reflect upon how the meaning of the flag evolved as the nation developed and faced a variety of challenges at home and abroad. Featuring 45 of the park's visitor services and living history volunteers, this program kicked-off of the event season for the park. Over the course of the season, these VIPs and many others will carry these stories to thousands of visitors and students at Fort McHenry and along the Star-Spangled Banner NHT.
Last updated: January 10, 2018