Fort McHenry's Ranger Paul Plamann Celebrates 50 Years of Service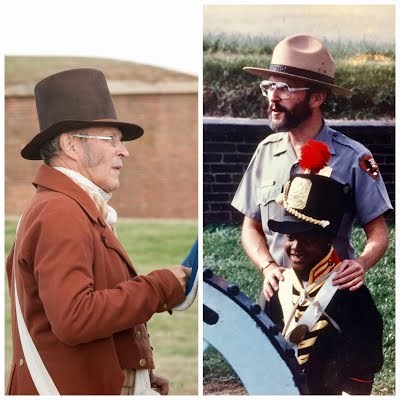 After completing his service in the U.S. Army in 1967, Paul Plamann noticed a job listing at Fort McHenry in his hometown of Baltimore. Upon applying he was asked "do you know how to operate a film projector?" To this, he answered "yes" and so began a 50-year career as a ranger in the National Park Service.
During the course of his career Paul observed how Fort McHenry NMHS and Hampton NHS evolved as National Park Service sites and how their stories have been interpreted in a variety of ways. He gave the first historic weapons demonstration at Fort McHenry and was one of the first rangers here to use costumed interpretation to share the fort's history with visitors. Today, our living history program is one of the most popular features of the park, and an important part of our youth, volunteer, and community outreach programs. In recent years, Paul developed a first-person living history impression of Dr. William Beanes, the prisoner whose freedom was secured by Francis Scott Key and Colonel John Skinner in September 1814. During the War of 1812 Bicentennial Fort McHenry's Dr. Beanes traveled to sites along the Star-Spangled Banner National Historic Trail to carry the story of the battles and the banner to communities throughout the Chesapeake Bay region, and Ranger Paul continues to give interpretive programs offsite as part of the Kids in Kayaks education program.
In his years at Fort McHenry, Paul has met seven U.S. presidents, several statesmen and dignitaries, but his most memorable visitor of all by far was Roy Rogers for whom he gave a guided tour of the fort. Paul presented the Star-Spangled Banner at the 1983 World Series in Baltimore and assisted in researching the seminal study of the battle of Baltimore, Walter Lord's Dawn's Early Light published in 1972. In 1985 Paul was one of the first to walk through the newly opened Fort McHenry Tunnel under Baltimore's harbor, and in 2016, he finished first in the over 70 group during the Fort McHenry Tunnel 5K.
In addition to giving interpretive programs, working in the visitor center, and other duties, Paul attends to the daily correspondence for the park. Each day he fields questions from potential visitors all over the world. He helps students researching school projects, families planning their vacations, and individuals who simply want to learn more about the site. In his 50 years as a ranger, Paul has welcomed generations of Fort McHenry visitors. This year he is helping to introduce nearly 4,000 schoolchildren to Hampton NHS through the Every Kid in a Park program.
Through informal contacts, offsite educational programs, ranger talks, and correspondence Paul has introduced an untold number of people to the National Park Service and its mission at Fort McHenry, Hampton, and along the Star-Spangled NHT. His dedication to the site, his colleagues, and to public service is extraordinary. And with his considerable experience and institutional knowledge we're looking forward to welcoming Paul to our Volunteers-In-Parks program this summer.
Last updated: January 10, 2018