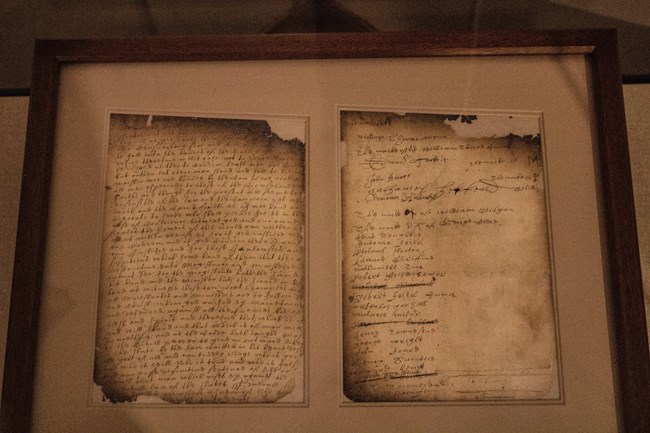 On display for the first time in three decades in Manhattan, the Flushing Remonstrance (1657) 361-year-old document arrived by courier to Federal Hall National Memorial (FEHA) for a five-day exhibition on June 28. Preservation experts from the New York State Archives in Albany who accompanied the Remonstrance during its journey to FEHA, immediately began installing an exhibition of the document, an important early recorded defense of the freedom to worship that has been called the religious Magna Carta of the New World.
In 1645, the settlement of Vlissengen (known today as Flushing, Queens) became part of New Netherland. Largely settled by English families, Vlissengen proved to be fertile ground for Quakers who were persecuted at home in England. Quaker religious teachings spread throughout Vlissengen and Long Island, threatening the dominance of the Dutch Reformed Church in New Netherland. Consequently, Peter Stuyvesant, the governor of New Netherland, forbade colonists from allowing Quaker meetings to be held in any home.
A Flushing colonist held a Quaker meeting in his home, and he was fined and banished. Flushing citizens protested, and in 1657 they wrote a demand for religious freedom that is today known as the Flushing Remonstrance. Today, the Flushing Remonstrance is regarded as the precursor to the U.S. Constitution's provision on freedom of religion on the Bill of Rights.
On Monday, the original 361-year-old document left FEHA in the same style as it arrived with three preservation experts from the New York State Archives in Albany arriving to remove the historical document for its return to the New York State Archives in Albany.
Preservation experts left a replica of the historical document that will remain on display at FEHA until September 2018.