Floyd Bennett Field Historic District
By Aviation: From Sand Dunes to Sonic Booms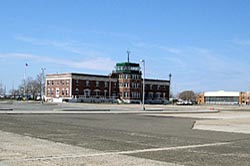 Floyd Bennett Field, on Barren Island, Jamaica Bay, was the first municipal airport in New York City. Constructed between 1928 and 1931 by the City Department of Docks, the airport was designed to divert the increasing volume of air traffic to New York City away from Newark Airport where the vast majority of New York bound flights terminated. By 1933, Floyd Bennett Field was the second busiest airport in the country, with 51,828 landings and takeoffs, but only a minor percentage of this actively consisted of the mail, freight and commercial passengers which generated revenue. The field was named in honor of naval aviator Floyd Bennett, pilot of the first flight over the North Pole in 1926. Bennett later died in 1928 from pneumonia that developed following extensive injuries from an earlier crash. Following the opening of Idlewild Airport in 1939, Floyd Bennett Field was closed to commercial use and conveyed to the U.S. Navy in 1941. Although the Navy enlarged the field, the original complex of steel frame and brick hangars and support buildings has not been substantially altered, and thus Floyd Bennett Field retains the architectural design and historic integrity of an early municipal airport.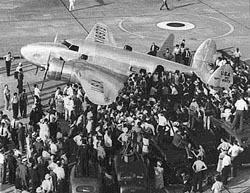 Floyd Bennett Field is also important for its association with significant early aviators. Because of its unusually long runways and fair weather conditions, Floyd Bennett Field became noted as a prime airport for the experimental fliers who sought to establish speed and distance records. In 1933 Wiley Post broke his previous record for an around-the-world flight landing at Floyd Bennett Field seven days, 18 hours and 49 minutes after he took off from there on July 15. In 1938, Howard Hughes with a crew of four made an around-the-world flight starting and finishing at Floyd Bennett Field. This flight, which covered 14,791 miles in three days, 19 hours, eight minutes and 10 seconds, was made to collect navigational data. Shortly after Hughes's flight, Douglas Corrigan embarked from Floyd Bennett Field supposedly on a flight to California. Corrigan flew instead to Ireland, thus fulfilling his wish to make a Trans-Atlantic flight. For this apparent lack of orientation, Corrigan lost his experimental license and earned the nickname "Wrong-Way." Interest in these records reflected public enthusiasm about aviation and contributed to improving technical aspects and piloting skills.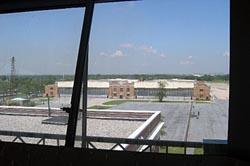 The first and most important buildings to be erected at the field were the complex of four pairs of hangars built between 1929 and 1931. The basically identical hangars are of steel frame construction with steel trussed arched roofs and wooden decks. Each hangar has a concrete slab floor and is supported by 45-foot-long precast concrete piles, which have been sunk into the ground. The inside dimensions of each hangar are 120 feet by 140 feet. Attached to the exterior side of each hangar is a two-story service wing, constructed of buff colored brick, which measures 20 feet by 120 feet. Between 1936 and 1938, the Works Progress Administration (WPA) constructed central service wings between the paired hangars, creating one continuous line of hangars. These two-story wings were made of the same brick and along the same lines as the side wings and housed machine shops and other maintenance facilities. The administration building, constructed in 1931, is a red and black brick building, two stories high and constructed in a neo-Georgian style. The eastern façade, which faces the runway, is dominated by a semi-octagonal projecting bay, three stories tall and topped with the steel framed and glass enclosed control booth. There is a small deck, enclosed with aluminum railing, surrounding the control booth. On either side of the projecting bay, at the first-story level, there is an observation deck, enclosed by balustrades and reached by a granite stairway.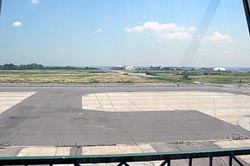 From 1929 through 1931, following the creation of the 387-acre area, two reinforced runways were laid. Both runways were 100 feet wide; one was 4200 feet long and oriented on a northeast-southwest axis and the other was 3,110 feet long and oriented on a north-northwest-south-southwest axis. The runways, located to the east of the building complex, formed a T, with the intersection slightly south of the administration building site. A concrete taxiway was also constructed at this time--it was parallel to the shorter of the runways and located to the west of it and east of the hangars. Two more runways were constructed by the WPA from 1937 to 1938. The shorter of these runways was laid on an approximately north-south axis, extending 4000 feet north from its intersection with the southern end of the earlier, 3100 feet runway. The longer of the new runways extended southeast for 5,500 feet from the northern terminus of the 3,100-foot runway. The rest of the airfield was planted with grass, to prevent drifting.

Visit the National Park Service Travel American Aviation to learn more about Aviation related Historic Sites
Last updated: September 3, 2017