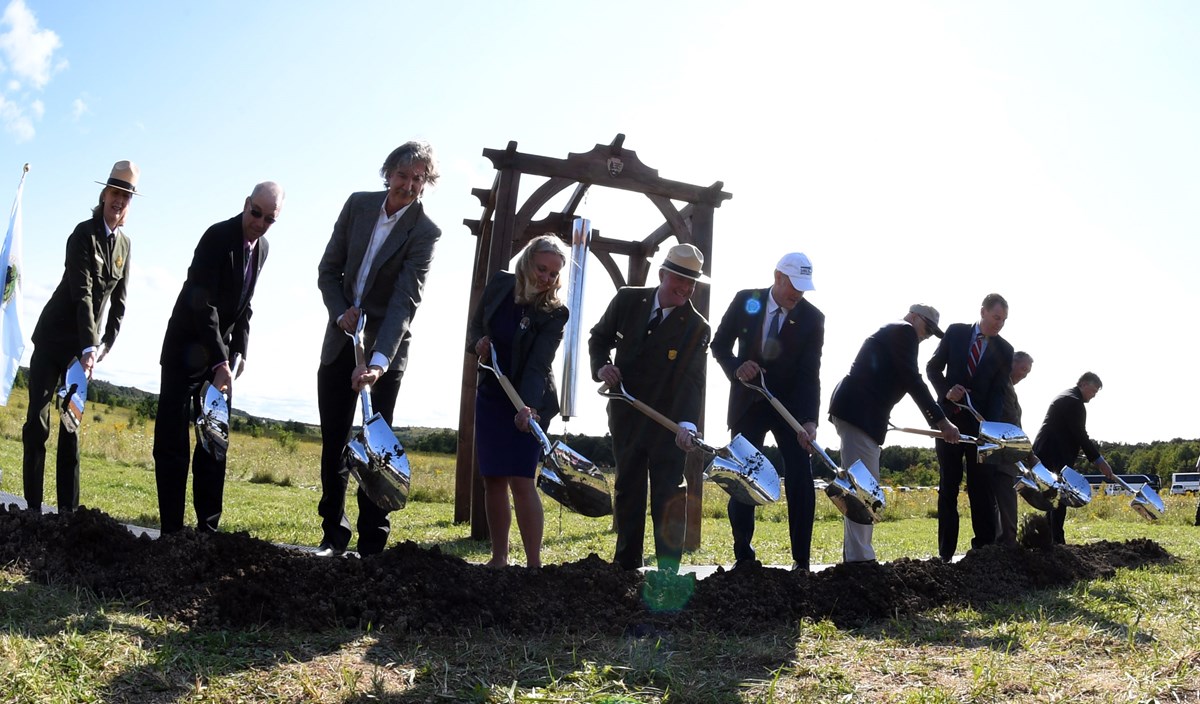 Flight 93 National Memorial honored the 40 passengers and crew of United Flight 93 with two days of commemorative events. These events included the "Soundbreaking" for the Tower of Voices, a Luminaria, and the 16th Anniversary September 11 Observance. The success of these events was a result of the combined efforts of the National Park Service (NPS) Eastern Incident Management Team (EIMT), managed by Incident Commander Mark Musitano, and a number of partners and volunteers. These partnerships included the Families of Flight 93, Friends of Flight 93 National Memorial, National Park Foundation, Eastern National, US Forest Service, US Public Health Service, National Weather Service, US Secret Service, US Park Police, Gettysburg Foundation, and Pennsylvania State Police. The EIMT included 118 members representing 21 parks in six regions. The five Western Pennsylvania Parks provided 63 staff members. Additionally, 183 volunteers contributed more than 889 hours of service to assist the park staff in hosting a safe and successful event. Over a three day period, these volunteers filled 326 different positions.
On Sunday, September 10, the Families and Friends of Flight 93, National Park Service (NPS), National Park Foundation, honored guests, and the public broke ground, and sound, on the final phase of major construction of the memorial's original design, the Tower of Voices. Slated for completion September 2018, the 93-foot Tower of Voices (TOV) will contain 40 wind chimes that will serve as an enduring memory of the voices of the passengers and crew.
Department of the Interior Secretary Ryan Zinke delivered the keynote address, emphasizing the role of community in the remembrance of these 40 brave individuals. He then led a group of representatives from the families, friends, and memorial partners in a ceremonial ground turning. Paul Murdoch, architect of the national memorial, provided brief remarks on his design vision, sounded a prototype chime and stood, facing the crash site, while a simulation of multiple chimes aired across the field for 93 seconds.
Visit FLNI's website
to listen to the audio simulation andview illustrations of the tower's design.
The NPS, in partnership with EarthCam, provided a live stream of the TOV's Soundbreaking ceremony to over 12,000 people around the world. Once construction begins in late September, EartchCam will provide a continuous live look at its progress and compile a timelapse video of the project. The live stream will be viewable on the
Friends of Flight 93's website
.
The following day, Vice President Mike Pence and Secretary of the Interior Ryan Zinke joined families, dignitaries, and the public to observe the Sixteenth Anniversary of September 11. The vice president and secretary, along with Pennsylvania Governor Tom Wolf, FLNI Superintendent Steve Clark, and President of the Families of Flight 93 Gordon Felt, offered remarks for the occasion. The United States Air Force Band, Celtic Aire, provided music.