Fire Speaks the Land is an active audiences dance performance that weaves together fire science, forest ecology, and Native American History. 

Fire speaks the land, and the land speaks fire.
"...The artistic quality was amazing! The background scenery with the trees was beautiful. The choreography was beautiful and the dancers danced with tremendous feeling and expression." 1/2 Grades, Dixon Elementary
What is Fire Speaks the Land?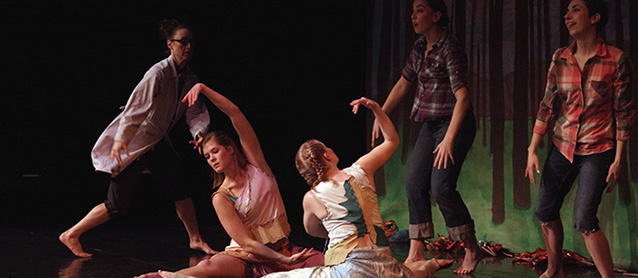 Using original choreography, music, lights and costumes Fire Speaks the Land is a 50-minute visually stunning performance and interactive learning experience.
The content for this arts-and-science-integrated program grew out of collaborations between the Missoula Fire Sciences Lab, a fire lookout, land managers, active duty fire personnel, the earth science curriculum, and a choreographer.
Each school receives a free electronic copy of the Fire Speaks the Land Teacher Resource Guide. Based out of the College of Visual & Performing Arts at the University of Montana, The CoMotion Dance Project tours throughout the Northwest with five professional dancers, a narrator and a Technical Director.This is CoMotion's fifth year touring the piece throughout the Rocky Mountain West.
Throughout the years, this company has enjoyed support from the Rocky Mountain Research Station, Idaho FireWise, Flathead National Forest, Whitefish Middle School, Montana Cultural Trust, Nez Perce Tribe, the Cadeau Foundation, Plum Creek Foundation, The University of Montana, individual schools and other organizations.
In April 2016, the dance will be performed in Boise, Idaho for over 1000 schoolchildren in Kindergarten through 6th grade. Sponsored by the National Park Service Division of Fire and Aviation in honor of the National Park Service Centennial, the performances are a way to connect connect with the next generation of park visitors, supporters, and advocates.
Resources
More Teachers' Responses to Fire Speaks the Land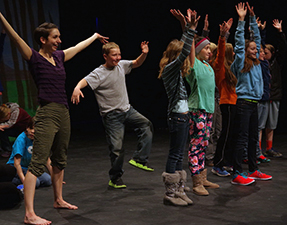 "Audience participation sections were timed perfectly and assessed the knowledge students received during the performance. They loved it!"
K-8, Trout Creek Elementary
"The best science lesson I have ever witnessed! Everything about the performance was of the highest quality. The time and energy that went into the performance was evident from start to finish. Very Professional! My students talked and talked and talked about the performance. They were very excited and animated with their discussion."
5/6 Grades, Thompson Falls Elementary
"I was very impressed with the dancers and the many lessons presented. My third grade son talked about it all weekend long." Superintendent, Plains Public Schools "The use of lighting was amazing and the amount of audience participation kept them interested."
5th Grade, Bonner Elementary
Last updated: February 18, 2016